Formula 1 chief Bernie Ecclestone has confirmed the sport will likely continue its association with the Bahrain Grand Prix, despite controversy over political instability in the region. The 82-year-old British businessman commented on future contracts with the event's organisers after the 2013 race, held between 19 April and 21 April, passed peacefully.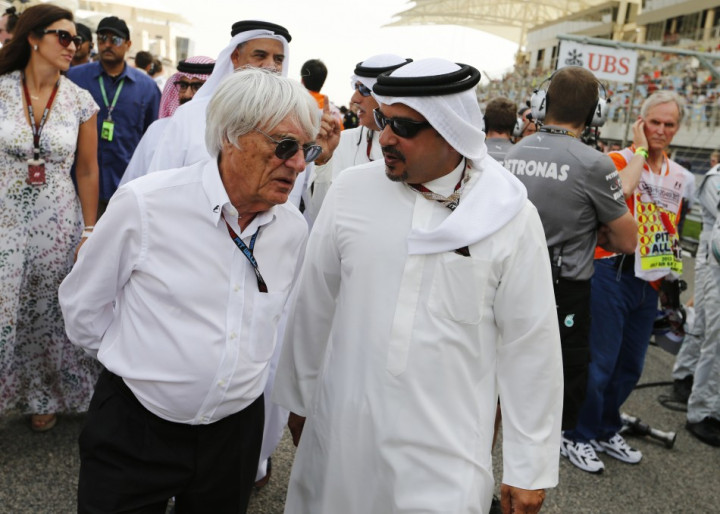 "We're happy to give a new contract for five years. I feel they do a super job and don't see any problems," Ecclestone said in a BBC Sport report, adding, "We're still contracted to 2016 [and] we've not started negotiations, but we are happy to look at it."
"We're committed to the sport, we were the first race in the Middle East - we call ourselves the home of motor sport in the Middle East. We believe that in every sense of those words. We are here for the long term and want to be known as the friendly race," the sport's leading administrator concluded.
The History
The 2011 race was cancelled after anti-government protests turned violent and at least 35 people died. At the time, the FIA (Formula 1's governing body) released a statement saying that in view of the protests they "supported the decision" to withdraw the race from Bahrain.
Red Bull Racing driver Mark Webber commented: "They [the authorities] know what's going on, so the right decision is made. I made my decision yesterday which was pretty clear - read the papers. They know what's going on out there..."
The 2012 Bahrain Grand Prix was held after promises from the government to provide additional security. Even then, though, there was an attack on members of the Force India team with petrol bombs, while they were returning from a practice session at the track. There were no injuries but team driver Nico Hulkenberg questioned the hosting of the race.
All of this meant there was a lot of attention on this season's race. Fortunately for the sport and the country, the 2013 Bahrain Grand Prix was held without any incident, major or otherwise. The practice sessions on Friday and Saturday and the race on Sunday proceeded as scheduled, with Red Bull's Sebastian Vettel claiming a flawless win and heartbreak for Ferrari ace Fernando Alonso.
There is now a break in the 2013 Formula 1 season, while teams prepare for the race in Spain, at the Circuit de Cataluña, to be held from 10 May to 12 May.