Sebastian Vettel continues to dominate the timesheets at Monza, ahead of qualifying for the 2013 Formula 1 Italian Grand Prix. The defending world champion lapped the 5.793km circuit in 1:24.360, which was 0.093s faster than his time on Friday afternoon.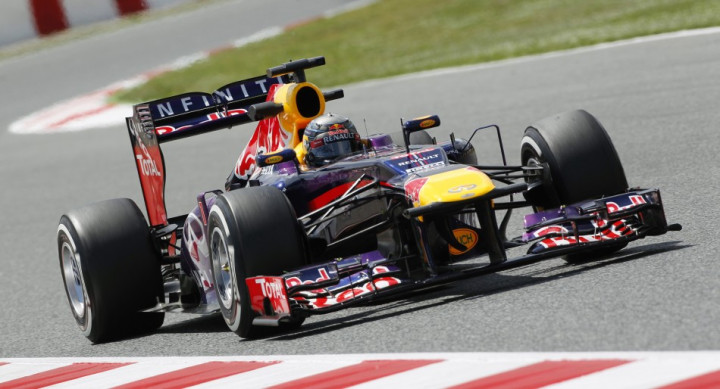 The Red Bull Racing driver is now heavy favourite to take pole position for Sunday's race and in the process halt Lewis Hamilton's run of four straight pole starts, dating back to the British Grand Prix at Silverstone in June.
Ferrari driver Fernando Alonso was roared on by a partisan home crowd at the Italian track and produced a brilliant 1:24.643 to finish the session second, only 0.283s off Vettel's pace. The double world champion's improvement from Friday afternoon was massive - he ran 1:25.330 in the second practice session.
Behind championship rivals Vettel and Alonso, Mark Webber, Hamilton, Sauber-Ferrari's Sergio Perez, Toro Rosso's Daniel Ricciardo and Ferrari driver Felipe Massa finished with sub-1:25 times.
Webber was third with 1:24.677, Hamilton fourth on 1:24.712 and Perez fifth with 1:24.864.
And Perez could be something of a dark horse in qualifying. The McLaren-Mercedes driver ran a brilliant race here last year, claiming second place after starting from 12th on the grid. The Mexican is a talented, if unpredictable, driver, so expect him to mix it with the front runners as much as possible.
Possibly the key takeaway from the final practice session is how remarkably close the times are. Drivers from first (Vettel) to 13th placed Esteban Gutierrez of Sauber are covered by one second. The first session was equally close, with Hamilton on top with 1:25.565 and Massa in 14th with 1:26.449.
Interestingly, the McLarens are performing quite reasonably this weekend. The MP4-28 has struggled massively so far this season and the former world champions are just about managing to hold off Force India-Mercedes for fifth place in the constructors' championship.
Jenson Button is the team's leading points scorer with 47 (Perez has 18) and neither driver has qualified above seventh so far this season. Their best race finish was Button's fifth place at the Chinese Grand Prix.
At Monza though, Perez's fifth place follows a sixth/seventh place finish in the first practice session and with Force India struggling (their best so far is Adrian Sutil's 1:25.702 for 16th this morning) this could be an excellent opportunity for the side to open up a lead over their rivals.
For the full timesheet and more details, click here.
READ: Formula 1 Italian GP 2013: Where to Watch Race Live and Weather Updates
READ: Formula 1 Italian GP 2013: Mercedes Finish 1-3 in Opening Practice at Monza