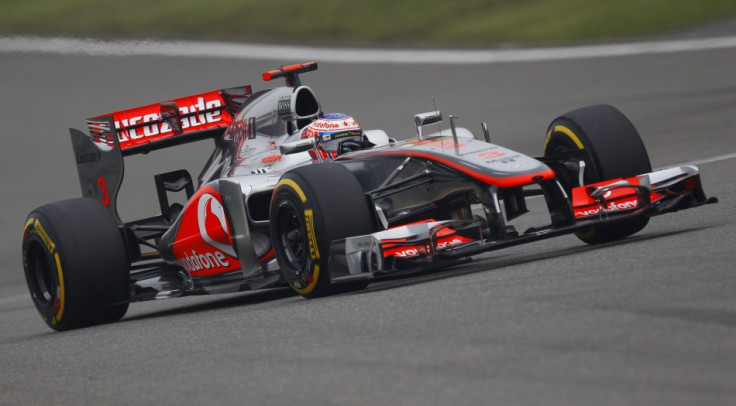 The 2012 Formula 1 British Grand Prix could have been such a lovely homecoming for the embattled McLaren F1 team. The Woking-based outfit had, by their own high standards, a poor season heading into the Silverstone event. Before the British Grand Prix, Lewis Hamilton, the 2008 champion, was the side's leading championship contender but he was all of 23 points behind championship leader Fernando Alonso of Ferrari. Jenson Button, Hamilton's team mate, was even worse off, with 50 points, and the team itself was 39 points behind pacesetters Red Bull. Worse still, they'd won only two races (Button in Australia and Hamilton in Canada) all season.
However, in the build-up to the race, the chaotic weather aside, both Hamilton and Button seemed to be very confident of a good showing, indicating they were expecting marked improvements from upgrades to the MP4-27. The upgrade was a new front wing, with two significant changes - a) an adjustable inner section, and b) a mechanism to control angle of incidence. The practice times seemed to promise some improvement, with Hamilton running third in the first Free Practice (FP1), topping the second Free Practice (FP2; Button came in sixth in this session) and sixth to Button's second in the final Free Practice (FP3). After that, unfortunately, it all went downhill! Button failed to qualify for Q2; he started from 16th on the grid after penalties to drivers in front. Hamilton fared slightly better, managing a nevertheless disappointing eighth.
The race was not much better and the McLarens were thoroughly outclassed by both Ferraris, both Red Bulls, both Lotuses and the Mercedes of Michael Schumacher. Hamilton finished eighth and Button tenth. The sheen and glamour of Button and Hamilton promoting the idea of a Formula 1 event around the streets of London at a lavish party thrown by Bernie Ecclestone faded rapidly.
Button and Hamilton have been quoted earlier as being disappointed with their team's performances and the number of tactical mistakes, a charge team boss Martin Whitmarsh accepted. There seemed to be gradual improvement from the Monaco Grand Prix (Hamilton qualified third and finished fifth) and again in Canada (Hamilton qualified second and won the race) but disastrous weekends at Valencia (European Grand Prix - best finish was Button in ninth) and now at Silverstone has reopened old wounds.
Disappointing Silverstone
Hamilton, who has emerged the team's sole hope to challenge Alonso and Vettel, confessed to being disappointed after the British Grand Prix, not only because it was a home race but also because it seems nobody at McLaren has any idea of the problem.
"We are still in the fight but unless we find something it is going to be hard to stay in the fight. I raced my heart out as always but we just struggled, we did not have enough speed in general. I wish we could have done better at my home grand prix but the others have clearly made another step forward so it was a real tough race. We have a lot of time to find from somewhere, we need a lot of downforce from somewhere. I don't know where the guys can find that but I really pray that they can find it," the Telegraph quoted the Brit as admitting.
The candid admission that the team had no clue about improving pace, despite brining new parts to Silverstone is compounded by the lack of time ahead of the next race - the German Grand Prix at Hockenheim (20 July - 22 July). Worse still is the fact that the Hockenheim track is similar to Silverstone in that it is a mix of high-speed straights, sweeping corners and a tight in-field and stadium section.
"Mercedes, Lotus, Red Bull and Ferrari have all picked up a lot of pace so we are a little bit behind at the moment. I expected us to get at least fifth place but those four teams in front of us were much quicker than us," he said after the British Grand Prix.
Button has been equally critical of the McLaren MP4-27 and insisted improvement had to be found... and soon. He stressed he drove the car as fast as it could possibly go and the problem was simple - a lack of pace.
"At the moment we are racing Williams, Sauber and Force India. And I don't feel they had the best weekend. We were perfect in strategy, the pit-stops were perfect and nothing went wrong. But if the Williams and Saubers had had good days, they would have beaten us, so we have a lot of work to do," the 2009 champion said.
David Coulthard Unhappy with McLaren
Meanwhile, former driver David Coulthard has criticised McLaren's lack of preparedness for Silverstone, stressing on the difference between working in wind tunnels and real-world testing.
"The minute you start to place your faith in the simulator, or the wind tunnel, you are forgetting to step outside in the real world. That is why I was concerned for McLaren before the race weekend had even got under way at Silverstone. They seemed to be saying that they would make a leap forward based on what their computers back in Woking were telling them," the Scot wrote in the Telegraph. He also added that given the pace at which Ferrari, and particularly Red Bull, had developed their car, McLaren needed to pull a rabbit out of the hat.
Upgrades for Hockenheim
Finally, early season boasts aside, Whitmarsh insisted he would not give up and has promised more upgrades for Hockenheim.
"Everyone knows this team is strong and committed to winning, and the drivers and team will be giving it their all. We'll see what we can do when we get to Germany. It's a decent upgrade, although I'm sure no-one is going to stand still and wait for us. You have to do a good job. We've been flat out as we always are. We're trying to pull them (the upgrades) through as quick as we can," the team boss said.
Tyre Troubles
A lack of pace aside, one of the major reasons, at least according to quotes from within the McLaren camp, for the team's troubles is the unpredictable nature of the Pirelli tyres. The French manufacturers have been criticised for that failing on several occasions (and by several other teams and drivers) this season but Button and Whitmarsh believe the MP4-27 has particularly struggled.
"We are still struggling with tyre temperatures. I put on hard tyres at the end and was going well but when I got behind other cars suddenly my tyre temperature had gone. It didn't grip the circuit, you turn it and it shudders across the circuit," Button explained after the race at Silverstone.
Meanwhile, a BBC analysis of the British Grand Prix noted that Ferrari and Red Bull were beginning to work well with the Pirellis... something the McLarens were clearly not learning quickly enough. The report even suggested the team's problems with the Pirellis could be of their own making.
Next Race
The Formula 1 circus will move to the Hockenheim circuit in Germany, for the Formula 1 Grosser Preis Santander Von Deutschland 2012, to be held between 20 July and 22 July. Stay with IBTimes UK, as we bring you season updates, driver quotes, technical news and race previews!