Philippine President Rodrigo Duterte stunned reporters on Thursday (27 October) night by saying he would stop cursing from now on. The firebrand leader, who made international headlines for calling US President Barack Obama "a son of a b***h", told them he was warned by God against cursing and hence, the decision.
Besides Obama, there is a long list of people Duterte has cursed publicly, including a US envoy, the European Union and Filipino lawyer and senator Leila de Lima. In the past few months, the US has been a frequent target of his cuss words, for the country had raised concerns about Duterte's bloody drug war.
The president who himself accepts that he is foul-mouthed told reporters upon his arrival in Davao City after his three-day official visit to Japan that he heard God's voice while flying back to his country. Duterte said God told him He would bring the plane down if he did not stop swearing.
"I was looking at the skies as I was coming over here. And I... everybody was asleep snoring. A voice said that you know 'If you don't stop (inaudible), I will bring this plane down now.' And I said, who is this? Of course, it's God. Oh, OK. So, I promised God not to express slang, cuss words," Duterte was quoted by GMA News network as saying.
"A promise to God is a promise to the Filipino people", he added. However, when asked if he would stop swearing at the US, EU or de Lima — his most frequent targets — he said: "There is always a time. A time to be foul-mouthed. I don't like anybody reading my mind. It's all calibrated, it's always timing. Watch out for one thing, that's what I've learned, miscalculation".
True to his promise, Duterte did not use any cuss words throughout the media interaction on Thursday night, the news network noted.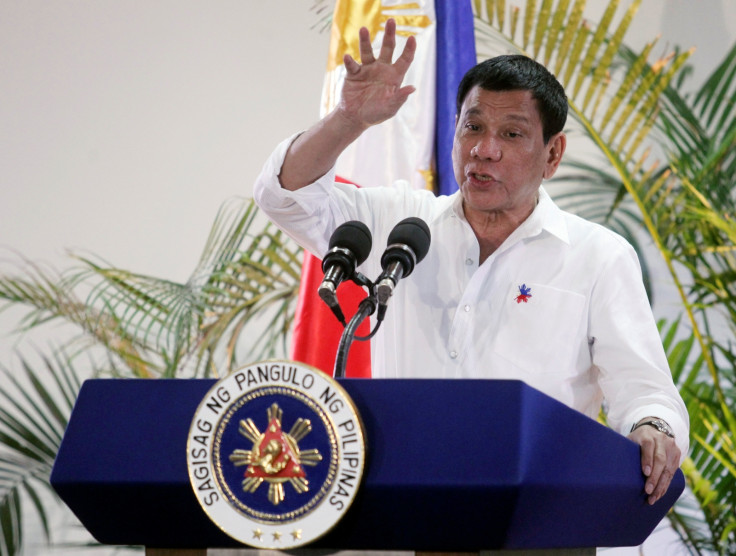 Meanwhile, the White House has signalled that a meeting between Duterte and Obama could take place during the upcoming Asia-Pacific Economic Cooperation (Apec) summit in Peru, the Philippines Star reported.
White House spokesman Josh Earnest said he would not rule out the possibility of an Obama-Duterte bilateral meeting on the sidelines of the summit in November. "But we've ruled out previous meetings with President Duterte on short notice," he said.
The two leaders were scheduled to meet for the first time during the Association of Southeast Asian Nations (Asean) summit in Laos in September, but the US called off the meeting at the last moment after Duterte cursed Obama for criticising his drug war.