The mayor of Maguindanao, a town in the Philippines, was reportedly shot and killed by anti-narcotics police early on Friday (28 October). He was among 10 others killed in the shootout and was on President Rodrigo Duterte's list of officials allegedly involved in illegal trade of drugs.
According to reports, police said that Mayor Samsudin Dimaukom and his convoy were stopped at a checkpoint in North Cotabato province. "Based on information about the group transporting illegal drugs in Maguidanao and Cotabato area," police said, they were intercepted. However, the convoy allegedly did not stop and in turn opened fire at the officers.
Dimaukom was reportedly one of the government officials named on Duterte list, which was released in August, mentioning the names of suspected public servants. However, reports said that when the mayor's house was raided in September, the police did not find any illegal drugs.
Since taking over as president, the tough-talking Duterte has vowed to eliminate criminals involved in the trade of illegal drugs. More than 3,500 people allegedly involved in crime have been killed since he took over office on 30 June. The crackdown has attracted international condemnation.
Meanwhile, the president said on Thursday that his bloody war on drugs would continue and that Filipinos could expect another 20,000 or 30,000 more deaths. He warned the number would triple if he has to become successful in eliminating drugs from the country.
"I tell you, I will triple it... To get my country rid [of the drug problem], you can expect 20,000 or 30,000 more (deaths)," ABS-CBN News quoted Duterte as saying in Davao city after his return from a three-day visit to Japan.
He added that he is losing policemen in the process. "There is a war going on. I am losing two to three policeman a day. It's a war," Duterte said.
Further, in a press briefing in Japan, speaker of the House of Representatives in the Philippines Pantaleon Alvarez said that the Congress was planning to approve the final reading of a bill that would reintroduce capital punishment. The speaker said it was a priority measure that Duterte wanted approved and it could happen even before the Christmas break.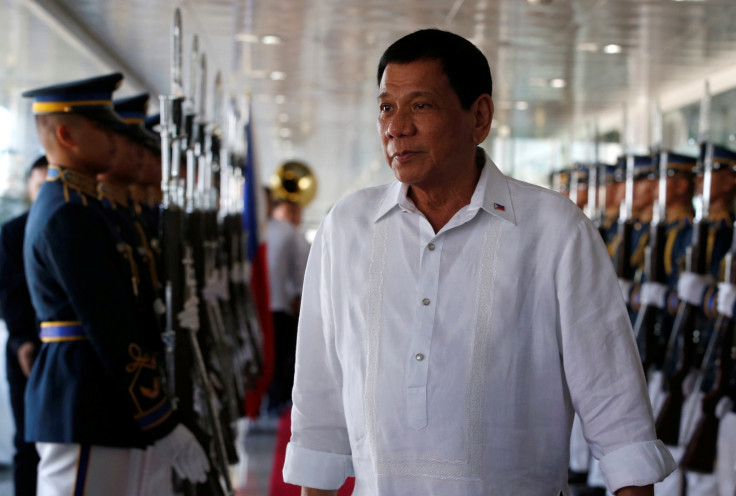 The House would now work to endorse state-sanctioned killings of alleged drugs convicts and criminals, the Inquirer reported. But Alvarez said the House has not decided how the executions would take place and that it was up to the executive to set rules.
"If they want to hang them, shoot them by firing squad, it's up to them. The criminals would be dead either way," he was quoted as saying.
Death penalty in the Asia Pacific country was abolished in 2006 after then president felt it did not serve to deter crime. The 1987 Constitution also states the capital punishment should not be imposed unless the Congress provides for it if there is a compelling ground involving horrific crimes.