China announces $15m grant for Duterte's war on drugs and law enforcement projects
The two nations have signed 13 trade deals during Duterte's four-day visit to China.
China is giving the Philippines financial aid to enable President Rodrigo Duterte to carry out his ambitious anti-drug campaign. The two nations signed an agreement on Thursday (20 October), under which China will give the Duterte administration 100m Chinese yuan (£12m, $15m) for "implementing projects to strengthen its war on illegal drugs and in law enforcement security cooperation between these two countries".
The Filipino ministry of finance said on Friday, 21 October that the agreement was among other pacts signed between the two Asian countries during Duterte's four-day state visit to China. Duterte has already sparked a controversy by announcing that he will sever ties with its long-time ally, the US, and build new relations with China and Russia.
The aid agreement was signed by Philippine Finance Secretary Carlos Dominguez III and Chinese Commerce Minister Gao Hucheng in the presence of Duterte and his Chinese counterpart Xi Jinping at the Great Hall of the People in Beijing, the finance ministry statement said.
"In accordance with the needs of the Government of the Republic of the Philippines, the Government of the People's Republic of China agrees to provide the Government of the Philippines with a grant of RMB yuan 100,000,000 which shall be disbursed to implement the projects for anti-illegal drugs and law enforcement security cooperation," the Agreement on Economic and Technical Cooperation reportedly says.
The agreement also states that the grant "shall be stipulated in the agreements to be signed subsequently between the two sides".
The finance department said the agreement "shall be in force until the day the two governments have fulfilled their obligations under the grant".
The two countries signed two other deals the same day, which are among 13 agreements that China and the Philippines entered into during Duterte's visit.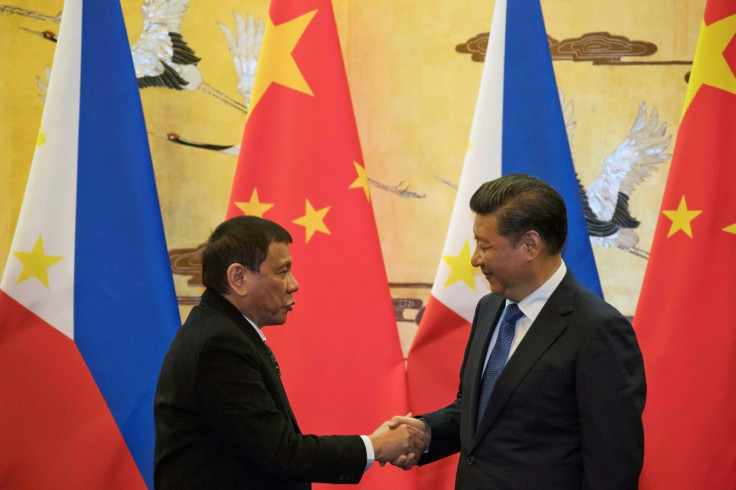 The first agreement signed between the two countries would enable the Philippines to tap China's technical expertise as well, in addition to financial grants. The memorandum of understanding (MOU) was signed between Dominguez III and Sun Ping, vice president of the Export-Import Bank of China (China EXIM).
"The MOU states that projects in infrastructure, energy, transportation, engineering and manufacturing would be considered by the two governments as priorities," the Filipino finance department said in an email statement, GMA News Online reported.
The second one was signed by Dominguez III and Chinese Commerce Minister Gao Hucheng, under which China would provide support to its new-found ally "through the dispatch of technical experts and consultants" for a period of three years.
© Copyright IBTimes 2023. All rights reserved.