Rwandan presidential candidate Frank Habineza, founder of the Democratic Green Party of Rwanda (DGPR), is confident he stands a chance against his adversary, President Paul Kagame, in the upcoming presidential election.
On Thursday (4 August), Rwandans will head to the polls to decide whether they want Kagame, 59, to stay in power for a third term. Alternatively, they can give a chance to Habineza, 40, or independent candidate Philippe Mpayiman, 46.
Kagame is running again after millions of Rwandans voted in favour of constitutional changes to extend his mandate in a December 2015 referendum the opposition and the international community deemed as "non-democratic".
The approved amendments allowed Kagame– in power for 17 years – to run for a seven-year-long term in 2017 and two subsequent five-year-long terms in 2024 and 2029, potentially staying in power until 2034.
Habineza told IBTimes UK his party is focused on winning the election and he hopes he will be able to implement democratic principles he believes the country is lacking.
"We want to make sure people have their rights and freedoms respected, including freedom of expression and the media. We want to reduce inequalities and make sure people who are left behind become equal citizens of Rwanda," he explained.
"We would also make sure that people from different political parties have the freedom to express their opinion and can enjoy their political rights and are free to join political parties.
"The president has done his part, has done his contribution, it is the right time [for] a new and younger leader [to be] elected," he continued.
It is the right time for a new and younger leader to be elected - Frank Habineza
Another issue at the core of the DGPR's manifesto is to tackle climate change and food insecurity in the landlocked country, where the majority of people still live on agricultural practices.
"We are going to make sure we modernise agricultural practices and help people affected by an ongoing drought and make sure they have access to water and implement irrigation schemes during the dry season," Habineza explained.
Controversy around the election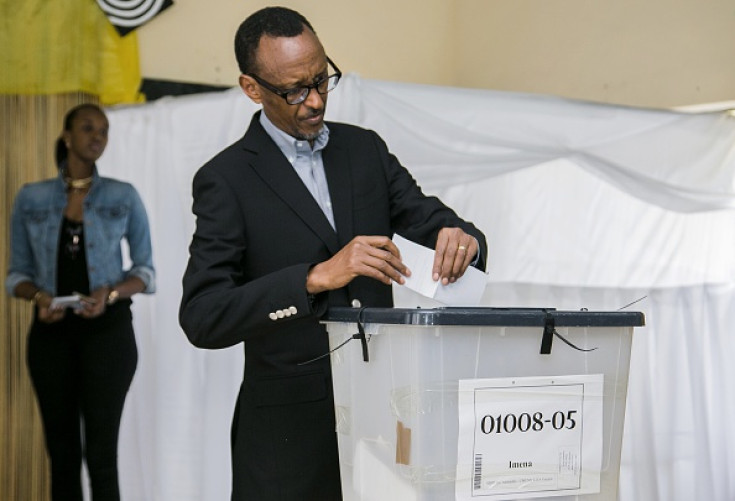 The upcoming election is not free from controversy, as some analysts have claimed the government is allegedly cracking down on freedom of speech and political opponents. The government denies the allegations.
"Freedom of expression in Rwanda is virtually nonexistent, unless one is espousing the virtues of President Paul Kagame's leadership," Jeffrey Smith, Executive Director of the NGO Vanguard Africa, told IBTimes UK.
He added that people who criticise the government eventually flee the country, fearing reprisal.
Although Rwanda has witnessed some small-scales protests, Smith said rallies against the government are unlikely to occur, given "the highly entrenched state security apparatus and the level of fear that that pervades the country."
A local journalist, who spoke under condition of anonymity, said press freedom is improving in the east African nation.
"We have in place the 'media self-regulation body' which strives to deal with our problem and for the moment we have no jailed journalist," the source explained.
Habineza – whose party was prevented from registering to participate in the 2010 presidential election – said his colleagues have received intimidation and have been harassed.
In 2010, the then DGPR vice-chairman, André Kagwa Rwisereka, was found dead near a river in what the Guardian said at the time was "the third attack on a governement critic in a month".
Habineza fled into exile following the murder and only returned in 2012.
Both the opposition and human rights organisations called for an independent inquiry into the murder, amid suspicions it could be politically motivated. Authorities, however, said Rwisereka had likely been victim of a robbery.
Phil Clark, reader in international politics at Soas University, believes the absence of political pluralism, rather than perceived lack of free speech, is the problem of this election.
"Over the last seven years, the government has systematically undermined opposition parties and barred independent candidates from contesting the election," he told IBTimes UK.
"Kagame's two presidential opponents have proposed some important policies around release of political prisoners, greater freedom of speech and reforming the taxation structure for peasant communities. However, the current political atmosphere makes it extremely difficult for them to get their message out."
To date, DGPR is Rwanda's de-facto only opposition party after the Liberal Party (PL) and the Social Democratic Party (PSD) have endorsed Kagame.
"This lack of diverse political voices is highly problematic from a democratic perspective and reduces the spectrum of useful policy proposals," Clark continued.
Progress under Kagame's rule
Kagame is seen by many as the man who stopped the 1994 genocide – in which at least 800,000 people were killed in three months – and a leader capable of bringing about social and economic progress in Rwanda.
However, he has also been accused of implementing a climate of fear.
Some analysts believe many Rwandans want Kagame to stay in power, as they have been experiencing peace and economic development.
The leader himself is confident he would win this year's election.
"From August 4, we will have seven years to achieve more development," he said during a rally in the capital Kigali on 31 July, according to Reuters.
"Considering the might of the [ruling party] Rwanda Patriotic Front, combined with other political parties in the coalition, that is almost 100% (victory)," he continued.
We will have seven years to achieve more development - Paul Kagame
According to Clark, RPF's success lies in promoting policies and economic development without favouring any particular ethnic group in a country where ethnic and social divisions culminated in a genocide.
"Healthcare and education standards in particular have risen substantially since the RPF came to power," he said.
"The challenge for the RPF after this election will be to find ways to encourage a more vibrant political arena, with greater latitude for opposition parties to operate and for a critical media to flourish, while always safeguarding against the danger of ethnic extremism," Clark continued.