Four Ukrainian Soldiers Killed As Violence Continues Near Russian Border
Kiev accuses Russia of deploying 7,500 troops in Ukraine as tensions continue in eastern region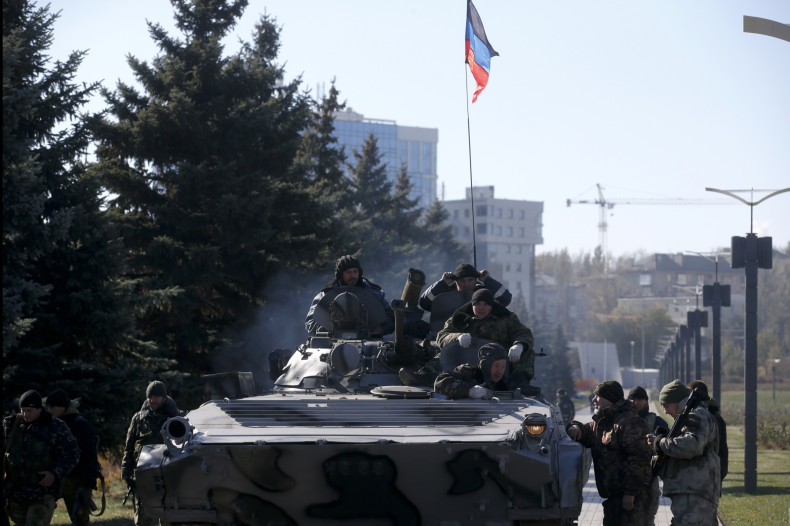 Four Ukrainian soldiers have been killed and a further 10 wounded, as continuing violence grips Ukraine's eastern region.
The governor's office said on Saturday that a 60-year-old civilian was also killed in the eastern region of Luhansk.
Attempts to end the violence in Ukraine have repeatedly failed as separatists and Ukrainian troops accuse each other of violating a fragile ceasefire agreement agreed in Minsk, Belarus on 5 September.
Kiev has also accused Russia of deploying 7,500 troops in Ukraine to support pro-Moscow separatists.
Ukraine's defence minister Stepan Poltorak said in a statement published on the ministry's website on Saturday: "Unfortunately, the stabilisation of the situation in the east of Ukraine does not depend only on us.
"The presence of 7,500 representatives of Russian armed forces in Ukraine destabilises the situation and prevents us from stabilising it."
Earlier this week, European monitors from the Organisation for Security and Co-operation in Europe (OSCE) in eastern Ukraine said uniformed personnel near Donetsk opened fire on their vehicles amid escalating tensions between Russian-backed rebels and government troops.
"Near the area of Mariinka, about 80m ahead of the convoy, there was a flat-bed cargo truck carrying a large green wooden box, with two uniformed personnel on board wearing helmets," the OSCE said.
"One of the soldiers stood up and fired two shots in the direction of the OSCE convoy. The bullets struck about 2m from the second OSCE vehicle.
"The SMM staff travelling in this vehicle heard sharp sounds originating from road or bullet fragments impacting on their car. Due to security concerns, the SMM left the area immediately."
Iryna Gudyma told IBTimes UK that the monitoring team was unable to verify which side of the conflict was responsible for the shooting.
"There have been many cases were people wore uniform pretending to be someone else," she said. "We are not speculating on who was shooting."
Ukraine has also reported that Russia has moved a squadron of MiG-31 advanced interceptor jets to an airbase close to the Ukrainian border.