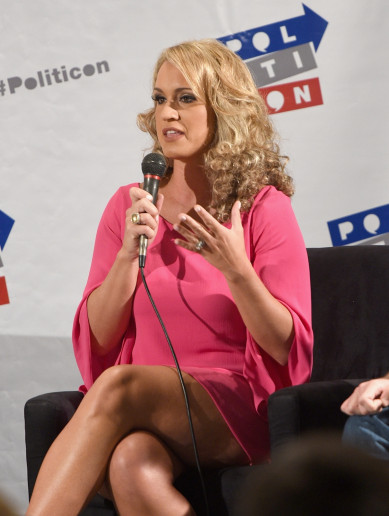 Political commentator Scottie Nell Hughes has sued Fox News, accusing the network of punishing her after she claimed that she was raped by anchor Charles Payne.
Hughes, who regularly appeared on CNN and Fox News in the run-up to the US election in support of Donald Trump, said that the host of Fox's Making Money show forced his way into her room and coerced her into having sex with him in 2013.
Her lawsuit states that Payne "used his position of power to pressure Ms Hughes into submission" and that he became "physically violent" when she tried to resist his advances.
The journalist was forced into a sexual relationship with Payne in exchange for career opportunities, according to the lawsuit. She was never hired as a paid Fox contributor, despite Payne promising her that she would receive a contract, the suit states.
Hughes claimed in the lawsuit that after she ended her relationship with Payne, Fox News blacklisted her and cut her appearances on the network from five times a week to five sessions over a period of 10 months.
She said that booking agents said the decline in appearances was because she "had an affair with someone at Fox", according to the lawsuit.
"In July of 2013, I was raped by Charles Payne," Hughes told the New York Times. "In July of 2017, I was raped again by Fox News. Since then, I have been living an absolute hell."
"What is most important to me is that justice will prevent other women from going through the nightmare I'm now living," she added.
Payne was suspended from the network this summer while Fox investigated his conduct, but returned to air earlier this month.
He has vehemently denied the rape allegations and his lawyer said Payne planned to "defend himself vigorously against this baseless complaint."
Sexual harassment scandals have plagued Fox News in the past two years.
Last year, the network's CEO, Roger Ailes, was ousted after several female commentators, including anchors Gretchen Carlson and Megyn Kelly, accused him of harassment. Two weeks ago, Fox News fired host Eric Bolling amid allegations that he had sent lewd messages and sexually explicit pictures to network employees.