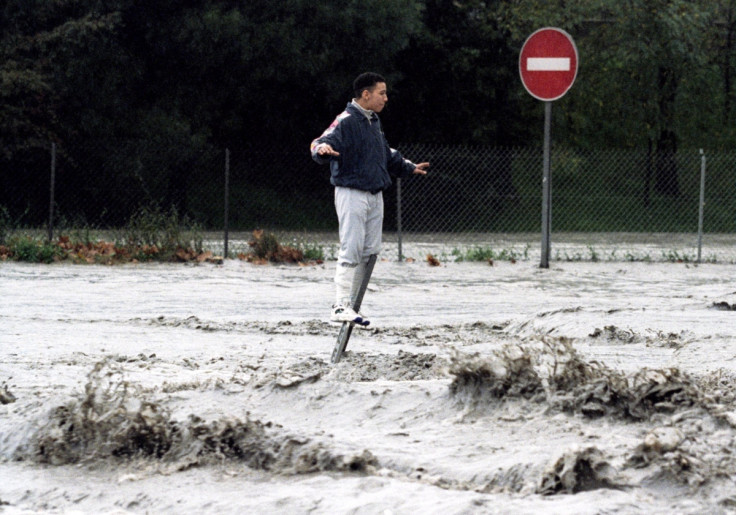 At least 17 people were killed and four more missing after heavy downpour led to massive flooding along the French riviera on Saturday, 3 October. The deluge accompanied by thunderstorms broke the banks of the Brague river in the city of Antibes.
According to Agence France-Presse, three elderly people drowned when floodwaters from the river crashed into a retirement home in Biot, near Antibes. Most of those killed were stranded in cars, while a 60-year-old woman died on the road due the floods.
"Some cars were carried off into the sea," said Cannes mayor Davis Lisnard. "We have rescued a lot of people, and we must now be vigilant against looting."
Around a dozen trains have been halted for the safety of passengers the French railway company SNCF said. "Camp sites are under water, and two helicopters are circling to ensure the public's security, as some people are stuck on the roof of their caravans," AFP quoted a spokesman for the fire brigade as saying.
An emergency plan involving the police and municipal services was in effect, according to the Cannes mayor's office, and the country's weather agency said that the storm had passed over the French mainland and was headed towards the Italian coast.
Roads near Antibes were also flooded. The Alpes-Maritimes prefecture's Facebook page said rainfall of an exceptional scale caused "significant damage and resulted in the deaths of several people".
French President Francois Hollande has announced a state of "natural disaster" in the affected region. He extended condolences when he visited the retirement home and warned residents in the region to remain cautious, saying: "It's not over."
France's Alpes-Maritimes district saw around 150 millimeters of rain. Also, due to the heavy floods, around 500 people have been stuck at Nice airport.
The BBC reported that the main motorway through the area has been closed, trains halted and hundreds of tourists sought shelter at the Nice airport overnight. It said about 10,000 homes were still without power on Sunday evening, mostly in Cannes.