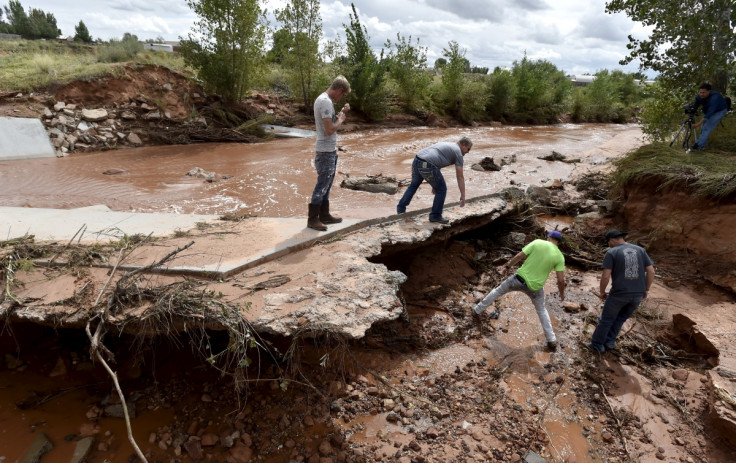 Utah officials said on 15 September that flash floods have left at least 15 dead and five missing. A dozen people were killed near Utah-Arizona when flash floods engulfed two vehicles carrying 16 people and swept them into a waterway on 14 September. In the north, flash floods swept through parts of Zion National Park, killing three.
According to NPR, one person from the vehicles remains missing, while four more are missing at the park. "This is one of the worst-weather-related disasters in the history of the state of Utah and because of that we are bringing the full resources of the state to bear," Lieutenant Governor Spencer Cox said.
Reuters reported that hundreds of volunteers in the small city of Hildale were searching for the missing person on the border. "It was an act from God," Hildale Mayor Philip Barlow told reporters. "This is something we can't control ... It happened too fast."
Washington County officials released a statement on the flash flood incident on Monday (14 September). "In the flash flooding two occupied vehicles were hit by a large wall of water and debris at the Canyon Street Maxwell Crossing and were carried into the flood."
In the second incident, the Associated Press reported that park spokeswoman Holly Baker revealed a group of three women and four men had set off on 14 September before the parked closed slot canyons due to heavy rains and flood warnings. The group was reportedly canyoneering in the slot canyon called Keyhole, NPR reported.
The National Park Service announced that storms dropped .063 of an inch of water in an hour at the Zion National Park. "Rangers received a report of a group of seven individuals canyoneering in Keyhole Canyon shortly before the flooding began.
"Their unoccupied vehicles were located on Monday evening and a search began the morning of Tuesday, September 15, 2015 when it was determined that these individuals had not exited the canyon."
Three fatalities from the group were confirmed, with the other four are still missing. No names have been released.