Six days before the first round of France's presidential election, the candidate of the Front National (FN) Marine Le Pen said that, had she been in power, there would have been no terrorist attacks on the French territory.
In her rally at the Zenith in the capital Paris on Monday evening (17 April), Le Pen revived the FN's fundamental values by focusing her speech on immigration, insecurity and the fight against terrorism.
"With me, there would not have been Mohamed Merah, the killer of Jewish soldiers and children," the far-right candidate said in reference to Islamic jihadist Mohamed Merah, who went on a motorcycle shooting rampage in 2012 , killing three soldiers, a rabbi and three children at a Jewish school in Toulouse, France.
"There would not have been migrant terrorists from the Bataclan and the Stade de France," she told the crowds. "They would simply not have entered our country."
Islamist gunmen stormed the Bataclan Theater in Paris in November 2015, shooting indiscriminately and killing 89 people, as suicide bombers tried to enter the stadium during the attacks. 137 people died, including seven terrorists.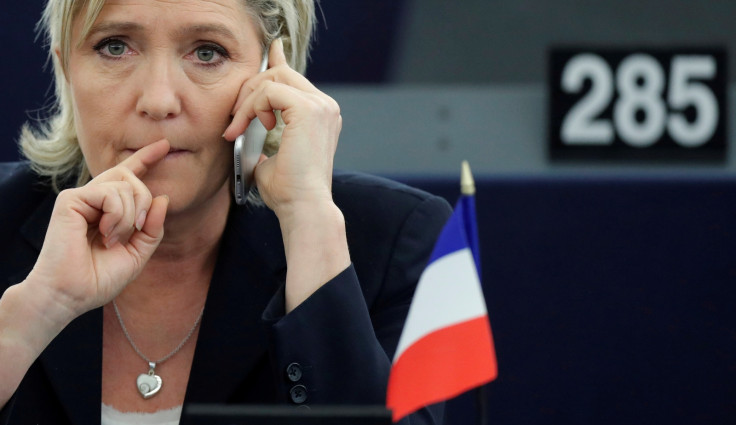 In an interview with RTL radio, the extreme-right candidate said that with the measures she intends to implement if she is elected in May, Charlie Hebdo attackers Amedy Coulibaly and the Kouachi brothers "would not have obtained French citizenship because when they turned 18 they had a long criminal record". Le Pen intends to make a criminal record a barrier to the acquisition of the French nationality,
"And because they are delinquents, they would have been dismissed from France. The others were foreigners (subjected to) "Fiche S", and I intend to expel immediately all foreigners with a Fiche S for suspicion of jidahism. There is no reason why we should keep on the territory people who represent a danger for the safety of the French people," she said.
The 's' stands for "sûreté d'etat" which is a police classification meaning the individuals had been identified as a possible danger and should be watched.