Policeman and suspected gunman killed in Paris attack on the Champs-Elysées
Shooting report comes after the major road in Paris was sealed off due to suspicious package
A policeman has been shot dead and two others wounded in an attack on the Champs-Elysées in Paris. A suspected gunman has also been shot dead at the scene.
France's Interior Ministry said that an injured police officer is no longer in a life-threatening condition.
It said that anti-terrorism prosecutors in Paris have opened an investigation into the incident.
French president, Francois Hollande, said he thought the attack was "terrorist-related" and this seems to be supported by Isis claiming that one of its "fighters" had carried out the attack.
Isis made the claim through its Amaq news agency, and named the attacker as Abu Yousif, a Belgian.
Reuters noted that the claim from Isis came through quickly and that the naming of the attacker "suggested a degree of direct contact with Islamic State".
The news agency said that although Isis also claimed responsibility for an attack in Westminster in March, which saw policeman PC Keith Palmer and several others killed, the terror group did not give any names or details.
Paris Prosecutor Francois Molins said that the assailant had been identified but did not reveal his name.
Paris police spokeswoman Johanna Primevert told The Associated Press that the attacker targeted officers guarding the area near the Franklin Roosevelt subway station. A Kalashnikov weapon was used in the attack.
Interior ministry spokesman, Pierre-Henry Brandet, told France's BFMTV news channel that the officers appeared to have been deliberately targeted. He said a car pulled up next to a police vehicle at 9pm local time (8pm BST) and a man got out opening fire with an automatic weapon.
Second assailant?
Police officers at the scene are said to be searching for a potential second assailant and Brandet said that it could not be ruled out that there was another or others involved.
People have been warned to avoid the area, which is popular with shoppers and tourists. One witness told French television station BFM she heard a shooting by the Marks & Spencer shop, saw a man's body on the ground, and the area was quickly evacuated by police.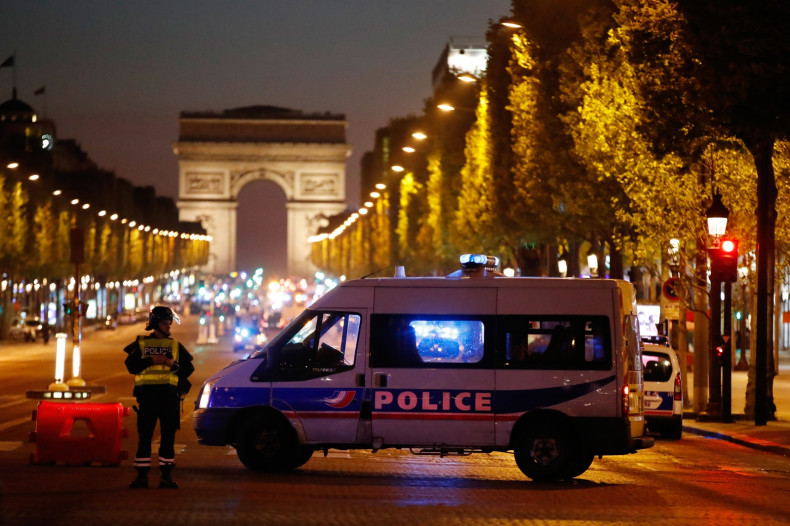 BFMTV news channel reported the killer was known to the security services and had talked of his intention to kill police officers.
The attack comes at a time of heightened tension ahead of the country's presidential election whose first round starts on Sunday.
Both Marine Le Pen, of National Front and the centre-right's François Fillon cancelled campaign events for Friday (21 April).
Le Pen tweeted:"I feel for and stand by our security forces, who have been targeted again."
US President Donald Trump said: "Our condolences from our country to the people of France. It looks like another terrorist attack and... what can you say? It just never ends."