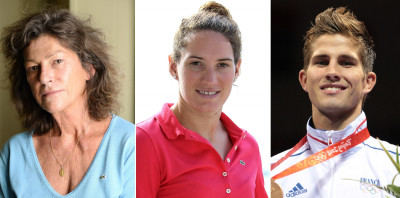 President Francois Hollande led a chorus of tributes France to eight French nationals, including three renowned athletes, who died in a helicopter crash during filming of a TV show in Argentina.
Olympic swimmer Camille Muffat, yachtswoman Florence Arthaud and boxer Alexis Vastine were among the victims of the accident in the north western La Rioja province.
They were in the South American country to take part in "Dropped", a celebrity show broadcast by channel TF1.
Five members of the production company Adventure Line Productions (ALP) and the two Argentinian pilots were also killed as the two helicopters carrying them collided in mid-air.
They were identified as Laurent Sbasnik, Lucie Mei-Dalby, Volodia Guinard, Brice Guilbert, Edouard Gilles, Juan Carlos Castillo and Roberto Abate.
Hollande gave his condolences to the victims' family and tweeted his "immense sadness" at the tragic news.
He was echoed by Prime Minister Manuel Valls and former president Nicolas Sarkozy who also tweeted their homage and condolences.
Former France and Arsenal striker Sylvain Wiltord was also taking part in reality show, which involved two teams of sports stars attempting to survive inhospitable environments they were dropped into.
Wiltord who was not injured tweeted: "I am sad for my friends, I'm trembling, I'm horrified, I don't have words. I can't say anything".
Ice skating champion Philippe Candeloro and veteran cyclist Jeannie Longo were also on the show. Last week Candeloro posted on Facebook a photo of all the participants smiling aboard the plane that took them from Paris to Argentina.
"On the plane taking off from Roissy [Airport] they all have a big smile," he wrote.
Former swimming Olympic champion Laure Manaudou posted on instagram the photo of a candle she lit in memory of the victims.
"They did France proud, they elevated their sport," she wrote.
Muffat, 25 had retired from competitive swimming two years after winning gold in the 400m freestyle at the London 2012 Olympics.
Vastine, 28, had also had his share of Olympic glory as the light-welterweight won bronze at the 2008 Beijing Olympics.
"It feels like I've lost a member of my family. He was my friend, he was like my little brother," said French Boxing Federation's former technical director Dominique Nato. "I had a lot of respect for him, no one will forget him."
Florence Arthaud, 57, was considered a pioneer of women sailing, famously winning the prestigious Route du Rhum race from Brittany to the Caribbean island of Guadeloupe in 1990.
"She was a fighter," said French sailor Jean-Luc Van Den Heede. "At the time it was extraordinary because not many women were doing this. She opened the way for others."
Secretary of state for sport, Thierry Braillard, told BFMTV "French sport has lost three stars.
"Some had finished their careers and one was dreaming of gold in Rio [2016]," he added "I'm profoundly saddened."