France's Jean-Marie Le Pen is planning to set up his own political 'grouping' after being suspended from the party he founded in 1972, the right wing National Front (FN) party.
His FN party membership was suspended by the party committee held on Monday 4 May over a series of inflammatory remarks that the Nazi gas chambers were a mere "detail" of World War Two - comments not tolerated by his daughter, party leader Marine Le Pen.
"I will not create another party. I will create a formation that will not compete with the FN," Jean-Marie Le Pen told Radio Courtoisie.
Provocatively, Le Pen added the group would be "a parachute in case of disaster; a way of putting pressure to return to the political line that has been followed for decades".
The patriarch can rely on his fervent supporters, who had taken to Twitter to show their support for his comments after Marine announced he would face an ousting.
Le Pen feeling 'betrayed'
Le Pen launched a scathing attack on his youngest daughter Marine last week in which he furiously disowned her after saying she behaved in a scandalous manner. He went as far as refusing to back in her 2017 presidential bid at the time.
In an interview with French radio Europe 1 on Tuesday 5 May, the octogenarian said he felt "betrayed" and "treated outrageously", as he spoke about his anger at being suspended from FN by the executive office of the party.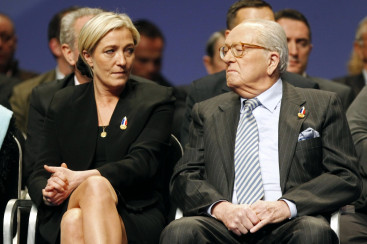 A furious Jean-Marie also declared he was opposed to a presidential election victory by his daughter in 2017.
"If such moral principles should govern the French State, it would be outrageous," the far-right firebrand said, referring to her "treason".
Softening family feud
On Monday 12 May, however, the 86-year-old, appeared to soften their very public family feud.
"Marine Le Pen has great qualities," he said. "She is a stand-up person, who shoulders overwhelming responsibilities."
The FN has made electoral gains in France after Marine worked hard to transform the image of the party her father founded by "de-demonising" it in the last few years.
Marine said on the weekend she felt her father could not stand the fact the party "continues to exist when he no longer heads it."
PS: 'Vulgar communication trap'
President Francois Hollande's Parti socialiste (PS), however, has slammed the ongoing family feud within the FN party as a "vulgar communication trap".
Juliette Méadel, spokesperson for the PS, on Friday 10 April denounced the very public war between the FN's founder and his daughter, accusing them of "enormous hypocrisy".