The "problem" with France's right-wing National Front (FN) party founder Jean-Marie Le Pen" will be "solved" internally next week, when the patriarch is heard by the party's political bureau on 17 April, IBTimes UK can reveal.
This comes days after the party was thrown into an all-out war between its President, Marine Le Pen, and her ageing father, Jean-Marie Le Pen, after he repeated claims that Nazi gas chambers were a "detail in history" and defended Marshal Pétain, the leader of France's Nazi collaborationist Vichy regime.
In a dramatic public savaging of her father, Marine Le Pen described him as being in "a total spiral of strategy somewhere between scorched earth and political suicide" and said that "with great regret" she would push for her father to be sacked as the lead FN candidate in regional elections in Provence in December.
In retaliation, the octogenarian, who has been finding support among his loyal admirers, confirmed his candidacy in the upcoming regional elections.
'Le Pen's provocations must stop'
The party is ready to take action, according to Ludovic de Danne, European Affairs Adviser for Marine Le Pen.
"The problem with Jean-Marie Le Pen will be solved within the party next week," he told IBTimes UK in a phone interview. "The Front National is a deeply democratic functioning party...but it is clear that things must change and that any provocations that do not correspond to ideas and the statute of Marine Le Pen's party must stop."
While de Danne, who is a member of the political bureau, explained "we will unite with him, talk to him and make decisions", he insisted the bureau would "stick next to her (Marine Le Pen) and nothing will happen to our party."
While it is not known what actions may be taken against the ageing founder of the FN, it has been suggested that his daughter could sideline Jean-Marie Le Pen by curtailing his power within the party - such as stripping him of his role of Honorary President or forcing him to retire from political life.
Gilbert Collard, an FN member of parliament, has also suggested it was time for Jean-Marie Le Pen to retire.
'Socialists should look at their own dirt'
The European Affairs adviser also referred to comments by Juliette Méadel, a spokesperson for President Francois Hollande's Parti Socialiste (PS) on Friday 10 April in which she denounced the very public war between the Jean-Marie Le Pen and his daughter.
In her remarks, she accusing the duo of "enormous hypocrisy" and having set up a "vulgar communication trap".
For de Danne, however, the remarks are defamatory, and the FN should "attack" back.
"We will attack all these people for what they are saying, it is pure defamation. Why the hell when we are doing so well (in the polls) would we try and organise some kind of machiavelic strategy using the father against the daughter? It is completely illogical."
He added: "People [Socialists] are mad and instead of doing such defamation, they should be looking at their own dirt."
'Standing in a huge demonisation process'
The adviser then slammed reports that Marine Le Pen is facing a potential investigation by the French authorities over "illegal campaign financing".
On Friday 10 April, Le Monde revealed that Marine Le Pen may be accused of illegally employing her two advisers, David Rachline and Nicolas Bay, as communications adviser and campaign spokesman respectively, through Riwal's use of "fictitious fixed term employment contract" during her campaign for the presidential and legislative campaigns in 2012.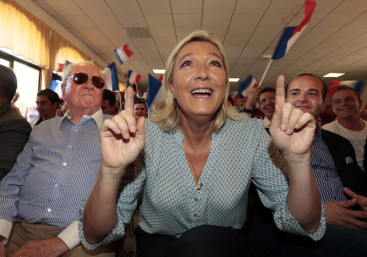 The European Affairs adviser, who called the revelations "slanderous denunciations", claims the two politicians who have now become Senator and MEP, and Secretary General of the party respectively, are "falsely" targeted by political opponent parties.
"You can see that they are elected members who are now more famous in France, so their names are dragged in the dirt."
"These are completely false claims, they are just talking about contracts and have no idea about the tasks that these people were accomplishing at that time," he added.
De Danne said the party was "pretty confident" about the investigation, and would defend itself "in case there are procedures".
"For the moment, it's just suspicions, and a lot of demonisation without any proof whatsoever," de Danne said, insisting: "We're just standing in a huge demonisation process."
In another political twist, Frédéric Chatillon - a friend and confidant of Marine Le Pen - and his company Riwal, have also been accused of having required "the payment of a bill of €412,000 to the National Front for services that could be realized by printers at very much lower prices, but which, in some cases were never made", according to French judges overlooking the case
Commenting on the allegations, de Danne said there were no "official, legal guidelines from the state or the law about prices regarding these campaigning kits or leaflets".
"We're in a free market with competitors with different prices offered, and Riwal's were the most interesting," he added.
European Parliament investigations
These accusations have reached European level, de Danne also claimed, referring to the European Parliament's 9 March announcement that it had alerted anti-fraud investigators to possible financial irregularities committed by the FN party over salaries paid to EU parliamentary assistants.
President Martin Schulz informed OLAF, the bloc's anti-corruption agency, that 20 people are being paid from the EU budget as lawmakers' assistants, according to National Front documents, as officials of the party's national organisation.
Assistants paid by the European Parliament must perform work directly linked to the exercise of a member's parliamentary mandate, according to the Parliament.
"There are leaks and there are false accusations: this is a whole system holding hands against us, and we are ready and prepared to defend ourselves with our lawyers and politicians in case the courts open cases. It's a big scam."
A parliamentary source told news agencies the fraud totalled €7.5m, confirming figures given by Le Monde.