France: Jean-Marie Le Pen disowns daughter Marine after she banishes him from FN party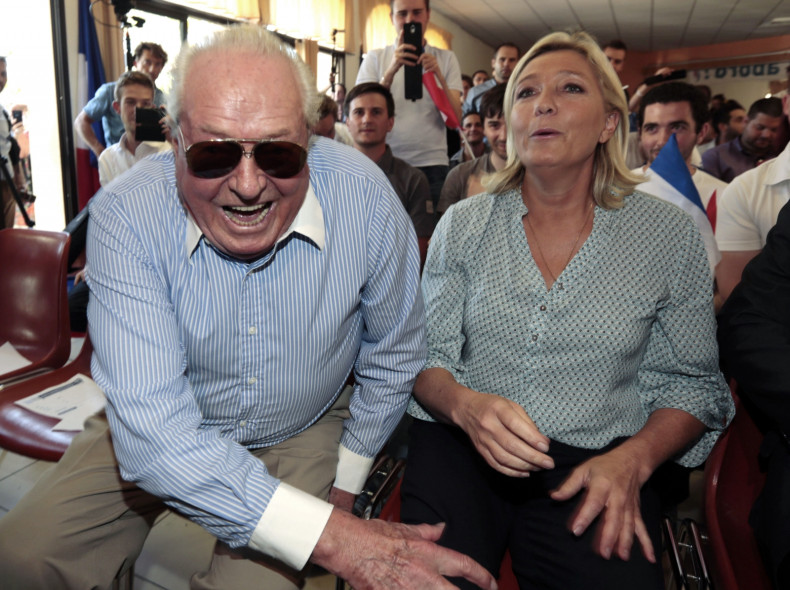 France's far-right National Front (FN) party has suspended founder Jean-Marie Le Pen over a series of inflammatory remarks and a feud with his daughter Marine, following a disciplinary meeting held on Monday 4 May.
Le Pen refused to appear before the board, which was called after he repeated his view that the Holocaust was "a detail of history" early in April.
Following his remarks, Ludovic de Danne, European Affairs Adviser for Marine Le Pen, exclusively told IBTimes UK the "problem" with Le Pen would "be solved" soon.
"It is clear that things must change and that any provocations that do not correspond to ideas and the statute of Marine Le Pen's party must stop," de Danne said at the time.
Le Pen: 'Lose your name'
In an interview with French radio Europe 1 on Tuesday 5 May, the octogenarian said he felt "betrayed" and "treated outrageously", as he spoke about his anger at being suspended from FN by the executive office of the party, which is headed by his daughter.
A furious Jean-Marie declared he was opposed to a presidential election victory by his daughter in 2017.
"If such moral principles should govern the French State, it would be outrageous," the far-right firebrand stated, referring to her "treason".
"I am ashamed that the president of the National Front has my name and I wish she (could) drop it as soon as possible," he said, suggesting she marry her partner Louis Alliot, or vice-president Florian Philippot.
Speaking directly to his daughter, he said : "I tell her, get married, that will allow you to change your name, it will ease my conscience."
Pushed out of the FN party
On Sunday - a day before the disciplinary meeting - Marine told Europe 1- Le Monde - iTV that she wished her father no longer spoke or expressed his views "on behalf of the FN".
"I have a feeling he can't bear the fact the Front National continues to exist while he longer heads it. I regret it," she said.
Marine added that her father's statements "are contrary to the [political] line fixed" by the FN's current executive committee.
"If he wants to keep his freedom of speech, it is obviously his choice, but in these conditions it should not engage the political movement," she said. "I think he should no longer be able to speak [on the behalf of] the National Front."
In a statement, the right-wing party said an extraordinary general meeting will also review Le Pen's role as honorary president in the next three months.
Le Pen founded the FN in 1972, and led it until 2011 when he handed the reigns of the party to Marine.
President Francois Hollande's Parti socialiste (PS) slammed the ongoing family feud within the FN party as a "vulgar communication trap".