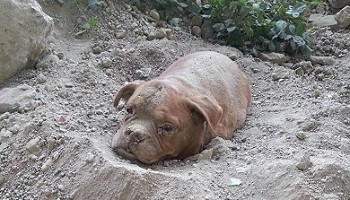 Animal lovers in France have called for a man who buried a mastiff alive to be given the maximum possible punishment.
Pictures of the dog buried up to its neck in earth caused outrage across the country, after the man who discovered the animal posted them on his Facebook page, with thousands petitioning for the dog's owner to be jailed for two years and handed a €30,000 (£21,000, $32,700) fine.
"Only her head was visible and it was difficult to see given the amount of earth covering her," the man who found the dog wrote on Facebook, reports AFP.
Emergency services freed the dog, and found that its lead was tied to a sack of gravel and surrounded by rocks to prevent it breaking free. Police in Carrières-sur-Seine, west of Paris, took the "shocked and dehydrated" animal to a vet for urgent treatment.
The 21-year-old owner was traced and arrested, and reportedly told officers that the dog had run away, an explanation police described as "not very plausible".
"The dog is more than 10 years old and suffers from arthritis. It's difficult to imagine her running away," a source close to the investigation told reporters.
A petition calling for the man to face the maximum punishment has 283,090 signatures. The man is due to stand trial in March 2016.