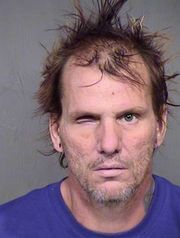 A man accused of decapitating his wife and two dogs in Phoenix, Arizona, has been identified as Kenneth Wakefield.
Wakefield was released from hospital on Saturday, August 1 and charged with one count of first degree murder, and two counts of animal cruelty. He is being held on a $2 million bond, ABC reports.
The 43-year-old is suspected of decapitating his spouse, Trina Heisch, 49, and their two dogs.
The couple are reported to have met in a mental health facility and both are believed to have mental health and drug abuse issues, as well as a history of domestic violence.
Police were called to an address on 13th Place and Colter Street after a neighbour went to check on the couple, on July 25.
Officials said that when Wakefield opened the door, the neighbour saw that he was naked, his left arm was cut off under the elbow, and his right eye was gouged out. The neighbour claimed the walls and floor of the apartment were covered in blood, and immediately contacted emergency services.
Wakefield admitted to officers that he killed his wife and the dogs. Heisch's body was found in a bedroom closet with the decapitated animals.
Police said that Wakefield had been arrested in 2003 after being accused of attempting to kill a family member, while Heisch was arrested in March after allegedly trying to stab her husband.
Wakefield underwent surgery at a local hospital, and has now been moved to jail.