A job advertisement in France for a graphic designer has gone viral for its anti-Semitic tones after it asked Jewish people to not apply for the position.
Paris-based NSL Studio posted the advertisement on jobs site Graphic-Jobs.com which included the line "if possible, not Jewish" in the job criteria.
One of the country's leading anti-racism groups, SOS Racisme, says that it is going to take legal action.
However, there is still some confusion over who is responsible for the controversial posting.
NSL Studio initially told French news outlet Les Inrocks that it requested that Jewish people needn't apply as the demanding and lengthy hours of work could be compromised if a person has cultural or religious needs to attend to.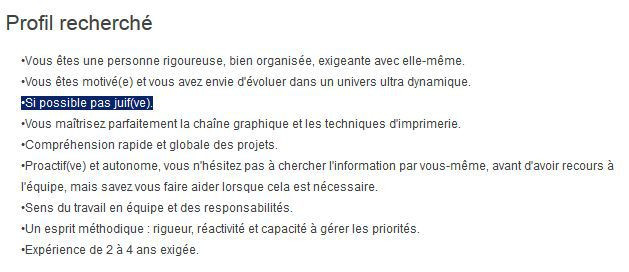 However, the company later back-tracked and said on Twitter that it had been hacked, while thanking those who had alerted it to the racist remarks.
In another twist to the blame game, Graphic-Jobs.com categorically denied that it had been hacked, and said that someone must have missed the remarks when checking through the advert, thus placing culpability back at the feet of NSL Studio. In a statement on its website, it said that it will reinforce its checking systems.
President Francois Hollande has vowed to tackle discrimination in the workplace by making it so that CVs are anonymous. The French government however has yet to draft a legislation on the subject.