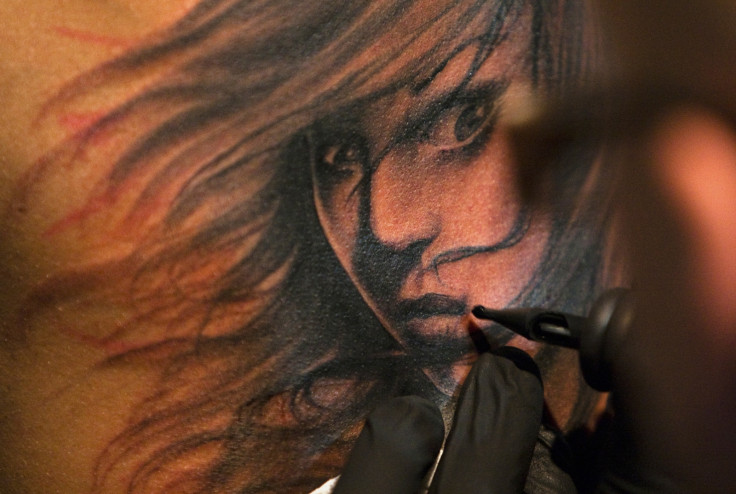 Twenty two years after losing his lower right arm as a child, French tattoo artist JC Sheitan Tenet has become the first person in the world to be fitted with a modified prosthetic arm that can double as his tattoo gun. The unique device was created for the Lyon-based tattooist by fellow artist and engineer Jean Louis Gonzalez, aka "JL Gonzal."
"Tenet wanted to draw tattoos with an arm that he'd never used for that before, and I thought it was a great idea to mechanise a prosthetic," Gonzal told Motherboard. "The aim was to fix the tattoo machine to an aesthetic version of his prosthetic arm."
In a post on Facebook, Gonzal said he created the device using an existing prosthetic, pieces of a typewriter, manometer and various pipes. The hybrid prosthesis features a mounted metal component with a tattoo machine attached that can be removed when Tenet is not working.
Gonzal also made sure that the prosthetic was light enough for Tenet to lift and use easily, with the ability to move 360 degrees when he wears it.
Using his shoulder to manoeuvre the artificial tattoo arm, Tenet recently demonstrated how the device works at the Tattoo Motor Show 8 convention in Devézieux, France.
"I had to relearn to use my right hand 22 years after the loss," Tenet told Mashable. "It's terrifying and amazing at the same time."
After using his left arm to draw most of the tattoo, Tenet then used the prosthetic arm to complete the tattoo's shading with impressive dexterity and accuracy.
In response to a YouTube comment, Tenet noted that he used disposable cartridges and needles when using the "exhibition" prosthesis, which can be taken off to clean and sterilise as well. He adds that since the cleaning process does take a while, the first version of the prototype isn't practical for daily use.
Gonzalez also says he plans to make the arm much more complex in the future and hopes to add wrist-like movements and individual fingers to the innovative prosthetic arm as well.
"What started out as a sculpture is now something that I can use," said Tenet. "[Gonzal and I] understood that we didn't have to recreate a hand as a prosthetic; we just had to create a tool that is better than a hand."