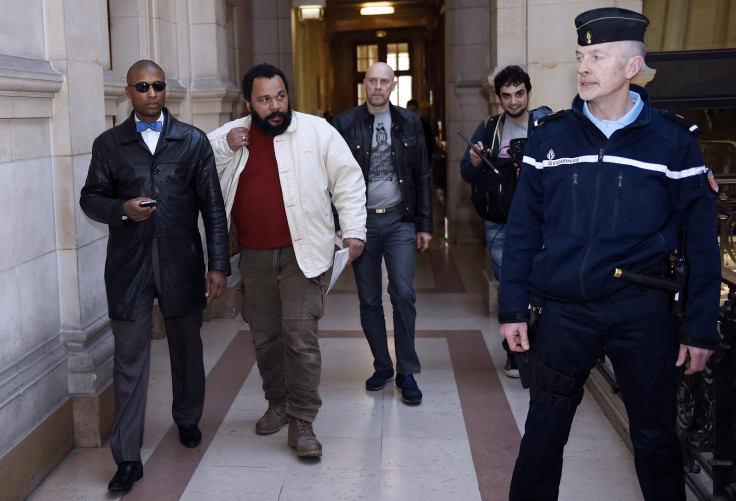 A controversial French comedian has been handed a two-month suspended jail sentence for an online comment in which he appeared to praise the gunman who killed a policewoman and four Jewish shoppers during France's three days of terror in January.
Paris prosecutors had asked for 200 days behind bars or a €30,000 (£21,700, $31,800) fine for Dieudonne, the comic who invented the infamous Nazi-like Quenelle gesture that was copied by footballer Nicholas Anelka in 2014, triggering widespread outrage.
The 49-year-old was accused of justifying terrorism for publishing a statement on his Facebook page mocking a solidarity march held in the French capital in the wake of the terrorist attacks that shocked the world.
Dieudonné wrote that, after attending the rally, he felt like "Charlie Coulibaly", a reference to the satirical magazine Charlie Hebdo where staff were murdered and Islamist gunman Amedy Coulibaly. The comment was described as shameful by Interior Minister Bernard Cazeneuve.
The comedian, whose full name is Dieudonné M'Bala M'bala, attempted to defend himself by saying he used the juxtaposition between the magazine and the gunman because he felt authorities had been mounting a series of cases against him as if he were a terrorist, when in fact he was a satirist and, as such, should have been granted freedom of speech.
During his 2- year-long stage career, Dieudonné has often been accused of anti-Semitism and has received six convictions for hate speech and €65,000 in related fines.
In 2014, the French government moved to block his national tour over the alleged anti-Semitic contents of his show.
"Over the last year I have been treated as the public enemy number one, when really I'm just trying to make [people] laugh," he said. "I am considered as an Amedy Coulibaly when I am not different from Charlie."
Coulibaly killed a policewoman in Paris' Montrouge district and then four Jewish shoppers in a Hyper Cacher supermarket in Porte de Vincennes in January.
His actions were allegedly coordinated with those of Said and Cherif Kouachi, two jihadi brothers who stormed the offices of Charlie Hebdo, killing 12 people. The attackers were shot dead by police at the end of two twin hostage stand-offs on 9 January.