The Islamic State (Isis) group have released a video of its French fighters speaking about the attack on the offices of satirical magazine Charlie Hebdo in Paris, warning that "the caliphate will come to Europe".
The video shows three French nationals speaking in their native tongue mixed with Arabic on the streets of an unknown location.
The first militant starts by talking of the Paris attack, saying that "it should have been done since a long time, because in France and all over Europe they are doing everything to destroy Islam, the true Islam and to destroy the caliphate that has installed itself today."
He proceeds to warn that more attacks will take place across Europe in the same fashion as that of the assault on the offices of the satirical magazine.
"We are going to come to Europe and there will be more and more of that [type of] operation. All over Europe, in France, Belgium, Germany, Switzerland, everywhere in Europe and everywhere in America."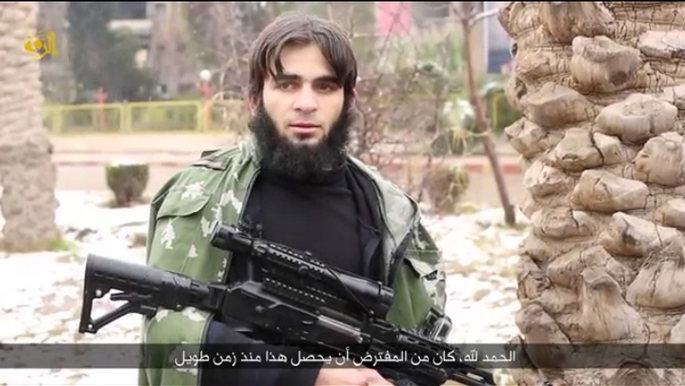 "I would say to those brothers if you do not get to do hijra [migration] on the lands of the Islamic caliphate, I'd tell them: 'do your best, do all you can, kill them, slaughter them, burn their cars, burn their homes, do all you can," he says. "The Islamic caliphate is going to install all over Europe."
The second militant (pictured at top of the page) says: "Those who have criticised Islam, they have all gone to hell. Continue to send them [to hell]."
The third militant (pictured below) proceeds to tell supporters of the group to target policemen and disbelievers, known as 'kuffar', in their countries.
He states: "If you see a policeman, kill him, kill them all, kill every kuffar that you see in the street, so that they are terrorised."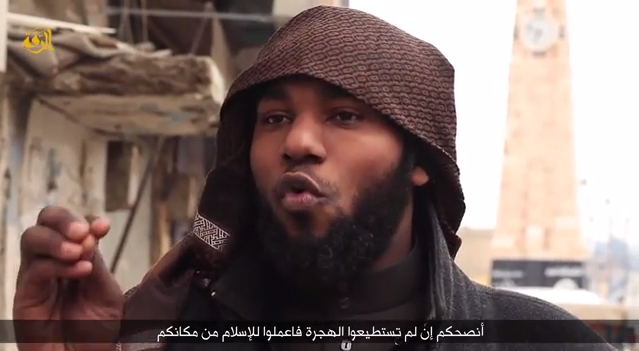 "This is the true path to dignity, the path of pride, brothers. Islam is a religion of peace, brothers, but it's first of all a religion of justice, brothers. Anyone who hurts us, we hurt him."
IBTimes UK could not independently verify the authenticity of the video but it was widely shared by Islamic State-affiliated accounts on social media sites.
In another video released on the Charlie Hebdo attack, entitled Message Regarding the Blessed Raid in Paris, al-Qaeda in the Arabian Peninsula [Aqap] - IS' rival for dominance in global jihad - claimed responsibility for the incident "as vengeance for the Messenger of Allah".
"We clarify to the ummah that the one who chose the target, laid the plan and nuanced the operation, is the leadership of Aqap," the leader of the group Sheikh Nasr al-Ansi said in a statement.