The French amphibious assault carrier Mistral arrived at a Japanese port on Saturday (29 April) to participate in a joint military drill with Japan, the US and the UK in what is seen as a display of military power aimed at China.
The vessel sailed into Japan's naval base of Sasebo in the southern city of Nagasaki and will take part in drills on and around Tinian island in the western Pacific. The French, Japanese, British and American navies will practise amphibious landings around the island.
The joint exercise has come at a time when Japan and the US are said to be concerned over China's militarisation in coastal waters beyond its territory and in the South China Sea. The French navy is also wary of China's movement in the sea as Paris too controls several islands like New Caledonia and French Polynesia in the Pacific.
The drills are said to upset China as its military strength grows with the addition of power-projecting aircraft carriers to sail the international waterway.
Tinian island where the drills are to be conducted in May is administered by the US and is part of the Northern Mariana Islands and includes Guam, which is located about 2,500kms (1553 miles) south of the Japanese capital Tokyo.
Japan, a close ally of the US in the region, has Asia's second-strongest navy only after China. Tokyo is now said to be forging closer defence ties with Britain and France as well.
The Mistral, which will lead the exercises involving 700 troops, left France in February. It is capable of carrying up to 35 helicopters and four landing barges, Reuters reported. The vessel is scheduled to stay in the Japanese coast until 5 May.
A welcome ceremony was held by Japan's Maritime Self Defence force on the western island of Kyushu, a major naval base for the Japanese and American navies. Children performed traditional Japanese dances to greet the Mistral and French officials.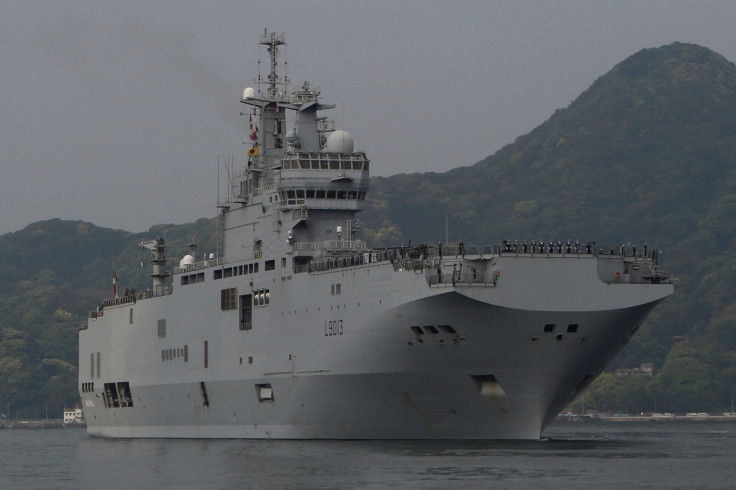 The drill comes amid rising tensions on the Korean peninsula. The Mistral docked in Sasebo just hours after North Korea test-fired a ballistic missile defying intense pressure from the US and China, Pyongyang's main ally.
The joint exercises are believed to add more pressure to China as the US has already been urging it to step up and do more to rein in the aggressive North Korean nuclear and missile ambitions.