Francois Fillon, the Republican candidate in France's upcoming presidential elections, has undergone a further weekend of scandals in a campaign that has seen him mostly on the defensive.
On Saturday (11 March) the troubled Fillon tweeted that he could "not tolerate" his party publishing a cartoon of his rival Emmanuel Macron that was accused of using antisemitic tropes. The party itself apologised after the incident which saw a caricature of front-runner Macron depicted as a banker with a hook-nose cutting a cigar with the communist sickle.
Fillon said that party workers involved would be disciplined, the Guardian reported.
"The political battle is tough, but it must stay dignified," he said.
But on Sunday, Fillon was accused by a French newspaper of receiving two tailored suits worth €6,500 (£5,700, $6,900) bought for him by a supporter. French law limits political donations from an individual to €4,600.
The person who signed the cheques paying for the suit, who was not identified, told the paper that he paid "at the request" of Fillon, adding: "without receiving the slightest thanks since then", the Telegraph reported.
In an interview with Les Echos, Fillon replied: "A friend offered me suits in February. So what?" before complaining that his actions were being scrutinised daily.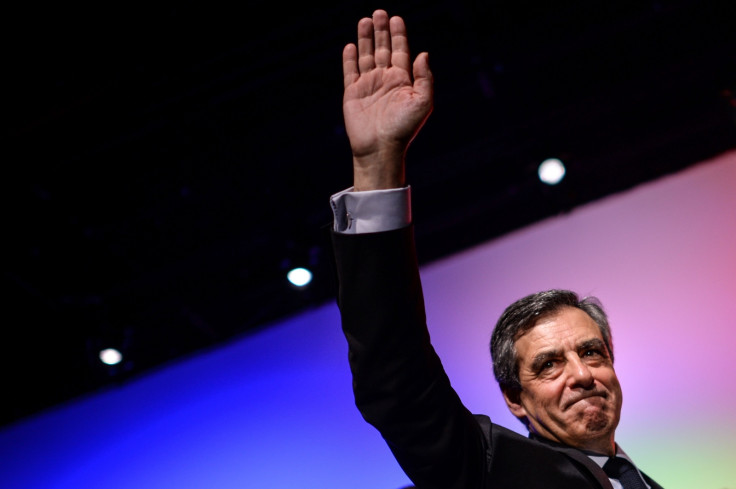 Fillon had been the front-runner to replace Francois Hollande as the next president of the French republic but allegations that he gave his wife and children fake parliamentary jobs - with his wife, Penelope Fillon being paid over €810,000, according to documents - causing serious damage to his standing.
Recent polls suggest that the centrist independent candidate Macron is on course to win both the first and second rounds of the presidential election, putting him just ahead of the far right populist Marine Le Pen in the first round.
After Fillon's scandals sent his polling numbers falling, Le Pen had topped some estimates of the outcome.