The front runner in France's presidential campaign, Emmanuel Macron, has unveiled a policy platform promising a more robust response to the country's security challenges and measures to battle corruption, allegations over which have plagued his rivals.
Macron, a centrist and the bookies' favourite to defeat extreme right-winger Marine le Pen at the polls, has announced a six-tier plan to deliver his vision for France. His programme, revealed at a press conference in Paris's 8<sup>th arrondissement, addresses themes of culture, work, modernising the economy, security, democratic renewal and international policy.
The former socialist economy minister has said he wants to implement a road map to better fight Islamist extremism across the Middle East and Africa. This would include an increase of France's military spending to 2% of the national GDP. The rise in defence expenditure has long been requested by the US and France's other Nato allies.
France has been under a state of emergency since November 2015 and the Paris Attacks that killed 130 people. Islamic State (Isis) claimed responsibility for the atrocities.
Under the state of emergency police have been given extended powers of search and arrest. Security forces have been deployed at high-profile 'soft targets'.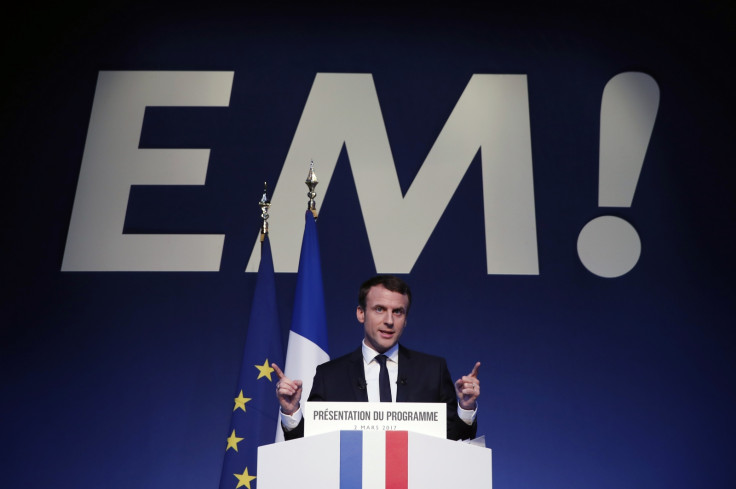 Security fears have been a central issue in the presidential campaign and, accordingly, Macron has promised to hire 10,000 more police and create 15,000 more places in prison, as well as boosting efforts to improve relations between police and minority youths in deprived suburbs.
Le Pen, now Macron's only real rival in the race to the Elysee Palace, has attacked the En Marche! founder as being to soft on Islamist extremism and security.
In a shot seemingly aimed at both Le Pen and the Republican candidate Francois Fillon, Macron has also promised to fight corruption in France's political classes.
Yesterday Fillon announced he was under formal investigation and had been summoned by magistrates to answer questions over charges he employed members of his family in 'fake jobs' and paid them hundreds of thousands of euros in wages for work they never did. Le Pen is also facing a corruption investigation.
Macron has said he would ban all officials from hiring family members and cut the size of both of France's houses of parliament by a third.
The leader of his own independent party, Macron has put himself in clear opposition to Le Pen over the issue of Europe. The National Front leader has said she would hold a referendum on France's membership of the European Union and campaign to leave. Macron has said the remaining 27 European Union members must vigorously defend their single market in talks with Britain on its exit and pursue a "real European strategy".