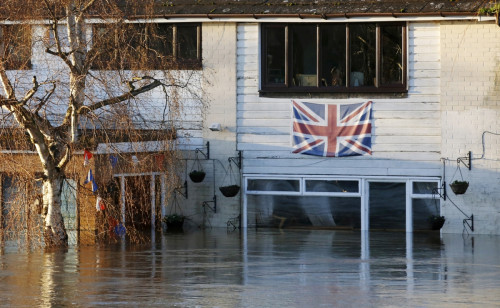 Winds of up to 109mph accompanied by heavy rain have battered the UK and Ireland disrupting travel plans, days after the Christmas chaos over severe weather.
The Met Office has issued fresh severe weather warnings for parts of Britain until 21:00 GMT on Friday, while a status of "red alert" has been sounded in Ireland.
More than 50 flood warnings – meaning "Flooding is expected requiring immediate action" – have been issued for many parts of the UK. The Environment Agency has also issued at least 150 flood alerts and the number of warnings is likely to increase in the next few hours.
"It is possible that heavy rain may worsen the current flooding situation in some areas with rivers responding quickly to rain falling on already saturated ground," said the agency.
Several flights have either been cancelled or diverted owing to bad weather. The gales have also uprooted many trees forcing the closure of roads.
"Many trees down due to strong winds. We would ask all drivers to exercise extreme caution whilst driving tonight," said the Cheshire Police.
Northern England and the northern regions of Wales are likely to experience the worst effects of the new Atlantic storm. The services of Arriva Trains Wales are also witnessing delays.
"We're sorry that due to the severe weather, we're unable to run any services until @networkrail advise it is safe to do so #southeastern," the Southeastern tweeted.
The Network Rail said: "Passengers have had a tough week of travelling and unfortunately that is likely to continue for at least another day. Thousands of railway workers have worked tirelessly over the holiday period to try and repair the significant damage caused by Monday's storm and will be called on again over the next 24 hours. As ever, safety comes first, as we ensure routes are safe for passenger services leading to a delayed start-up in some regions."
Winds also forced at least six flights to be diverted from the Dublin airport in the Republic of Ireland.