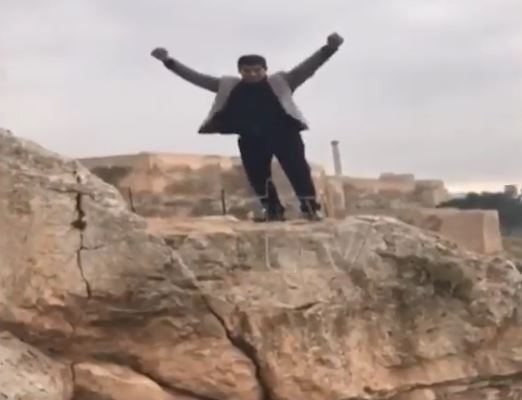 A father of eight tragically fell 150ft to his death while trying to get the perfect holiday photo in southern Turkey on 1 January.
Halil Dag was celebrating his birthday at Urfa Castle when he slipped and rolled off the peak towards a Kurdish restaurant at the base.
Dag jumped from one section of the cliff edge to another below, but slipped and lost his footing, before tumbling off the edge.
Dag survived the fall and was taken to Balikiligol State Hospital in a critical condition. He was eventually declared dead due to injuries sustained. His body was handed over to his family at the Abdurrahman Dede Cemetery where they buried him.
The 38-year-old ran a phone shop in Sanliurfa and was travelling with a few friends before the tragedy.
A video of the incident, broadcast on Turkish news station Ozel Goruntu, shows Dag standing triumphantly on the rocky cliff top before he attempted to jump down to a lower level.
But when he lands, he loses his balance. Despite having a few metres to regain his composure, the man struggles to fight the momentum. He is unable to grab hold of anything to arrest his fall and he disappears over the cliff edge as onlookers can be heard screaming. Another camera angle, captured by nearby CCTV cameras, shows the height of his fall to the concrete below.
Earlier this month, a British man was arrested after a prostitute he hired in Thailand plunged to her death. The two were having "extravagant sex" on the balcony of a hotel before she fell. Like Dag, she survived the fall but later died in hospital.