The city of Raqqa has been gripped by fear and fury as its residents await further air strikes by the coalition attempting to beat back Isis (Islamic State).
A 29-year-old Syrian activist, calling himself Ahmed Hassan, told me that innocent people are bearing the brunt of the coalition strikes, as IS has resorted to defending itself with human shields.
"We cannot fight them our own, and we do not have anything to fight them with. In areas like Ain Arab and Kobaty, we sometimes send our own children to fight them because there is no one else to support us in this," Hassan said.
The activist claimed that the strikes are also having a hugely detrimental effect on essential services. He told me that the services in his city are in "a very bad state" largely due to a sharp increase in oil prices, following the coalition's bombing of the oil installations and refineries under IS control.
Resentment is also evident in the city of Tabqaa, which has itself felt the force of the coalition bombardment.
On 13 October Tabqaa witnessed a major strike by shop workers protesting the frequent electric cuts and the new power rationing programme, as the number of rationing hours reached 20 in both key cities.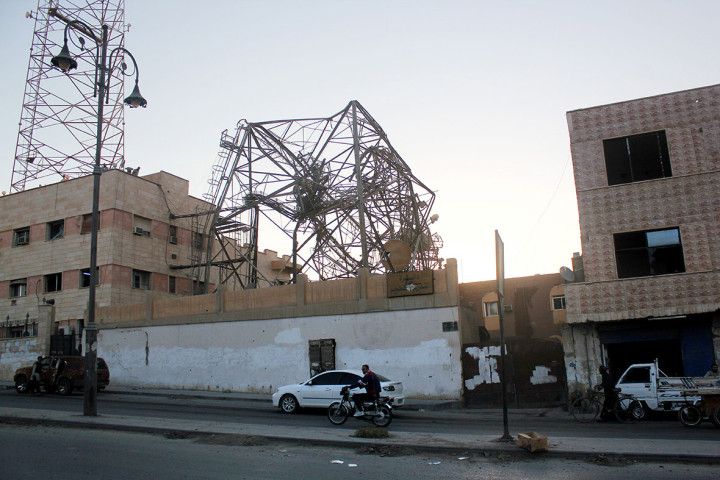 Isis reorganisation
The coalition bombardment, which has lasted almost a month, has forced IS to undertake major reorganisation in and around Raqqa.
Immediately after the bombardment began on 23 September, IS got to work on moving its weapon and ammunition dumps. The coalition knew the places where the IS fighters usually hide, so militants and their families began moving to the outskirts of Raqqa in search of the shelter from the bombs.
More than 150 air strikes have now been carried out across northern and eastern Raqqa. The strikes, which targeted the northern areas of Al-Tal-Al-Abyad and Salook, coincided with another Tomahawk missile assault which targeted the 93 brigade at Ain-Eissa, which had been taken over by IS.
The coalition also launched air raids on the IS camp in the southern village of AlEkershi, and targeted one of the oil installations in the west, in an attempt to surround and curtail IS geographically as well as economically. Strikes have taken place in Tabqaa, although it is thought that IS' anti-aircraft missiles forced the planes away.
IS has now vacated its headquarters and evacuated all its locations in both Tabqaa and Raqqa. They placed blockades all around the entrances and exits of the two cities, consisting of traffic police and security guards.
Hassan claimed Raqqa is now back "in the Stone Age", and added that the coalition may eradicate all the IS centres and headquarters, but they will not terminate them; no existing power would have the ability to permanently get rid of them at the present time.