The winter of 2013-14 will be always remembered in Ukrainians' hearts as a period when anyone could make history. Millions of Ukrainian people – from teachers to businessmen - came out onto the central squares of their cities and voted for a new democratic, non-corrupt country.
It was a peaceful protest, with lots of people sleeping in tents on the streets. Others came in the daytime, bringing food and warm clothes with them. Everybody wanted to help somehow; some game their time or money, others their health, and more than 100 people even gave their lives during the last phase of protests.
But every protest has to end eventually. And so, inevitably, the revolution of Dignity, as it was called in society, began to dwindle after the presidential elections. More and more people returned to their families, their work and other everyday activities.
However, not everybody went home. The number of people still living in the central square of Kiev – Independence Square – during the last three months has been estimated at anything between 50 and 200. It is hard to say why this people are still there and what they are looking for, but it looks as though they just don't have any other place to live
In fact the 'residents of Maidan' spread far beyond the squad. They took residence on some of Kiev's most important streets, using barricades built in winter.
Inevitably, the presence of these people brought huge quantities of garbage to the streets, and closed several roads, causing great dissatisfaction to Kiev residents. The popular view is that Maidan has done its work; now everyone should go back to doing things by themselves, through their professions and families. Otherwise a person should go to the east and fight with the terrorists, like many do.
But there is one problem: those who are still living in tents on the square don't want to leave.
"Maidan didn't end its function yet. We are here to keep the finger of power on the pulse and nobody can take us away" claims one 'resident of Maidan', known only as Petro. He and his friends won't allow anybody to take the barricades away in any case.
The tension has grown during recent days, with the utilities trying to clear everything from the roads. The 'residents' tried to interfere in every way possibles, and tussles inevitably ensued. Some of them left beaten, but, as a result, they won, and nothing was removed from the square. They even took the cleaning machines from the utility services.
We littered, but forgot to clean
Eventually, on Saturday [9 August], local people realised they were tired of this situation, and came to the centre of Kiev to clean it. "We littered, but forgot to clean. Today we came to correct it" - recognised Kiev habitant Anton Karpenko, who helped to take away tires during Ukraine's very own Big Tidy Up.
As during the winter revolution, the diversity of people who took part in the clean-up was amazing, from students to deputies. On Saturday they joined forces to clean the city, working hand-in-hand with utilities teams.
"Today our main job is to release the roadway on Hreshchatyk to let the car drivers use it on Monday" said deputy Rena Nazarova. "Maybe we will be in time to also clean Instytutska street, but, you understand, everything depends on 'Maidan's residents' ".
Eventually, more 20 waste containers were taken away as gangs worked feverishly to clean their thoroughfares.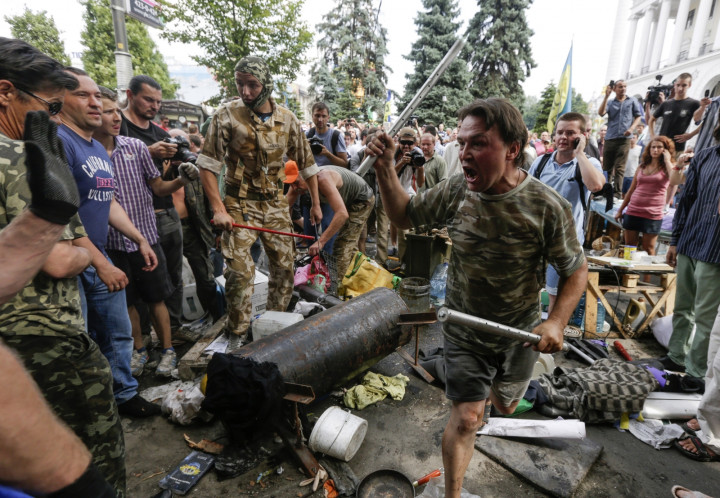 Resistance
However, the resistance of 'residents' still burns fiercely Every step has to be coordinated between them and the mayor, otherwise, they start to make fires and protest.
During Saturday's clean-up they set several tents and tyres alight, injuring three people, who were sent to the hospital.
Moreover, Kiev dwellers found an explosive in one tent. When the demolition teams inspected the bottle filled with liquid, it turned the makeshift bomb could have caused an explosion nearly 40 meters in radius.
As Ukraine looks to move on from its bloody spring, the road to recovery remains, quite literally, littered with dangers.