Chris Froome was unable to hold back the tears after winning the 100th edition of the Tour de France to become the second British winner of the event after Bradley Wiggin's heroics just one year ago.
The 28 year old claimed the title by more than four minutes and celebrated by crossing the line in Paris with his fellow Team Sky riders.
There was plenty of pressure on Froome's shoulder after Wiggins was forced to pull out of the race but the Kenyan-born rider was seemingly in control throughout as he comfortably held off the challenge of Colombian Nairo Quintana.
Froome had finished second last year but was instilled as the favourite this time round after being given the full support of Team Sky, even before it was announced that Wiggins would be unable to compete because of his injury.
He first took the lead when he won the eighth of the 21 stages in a summit finish at Domaines in the Pyrenees and would go on to win a further two stages in his maiden Tour title.
"I'd like to dedicate this win to my late mother. Without her encouragement to follow my dreams I would probably be watching this at home on TV," said an emotional Froome.
"This is a beautiful country, with the finest annual sporting event in the world and this is one yellow jersey that will stand the test of time.
"Crossing the line with [the] guys brought tears to my eyes. I expected it to be big but this is something else.
"Dave [Team Sky manager Sir Dave Brailsford] has been talking about the future of cycling - the youngsters coming through and the way the sport is moving. I look at the last decade and the way sport is going - we've got something to be proud of."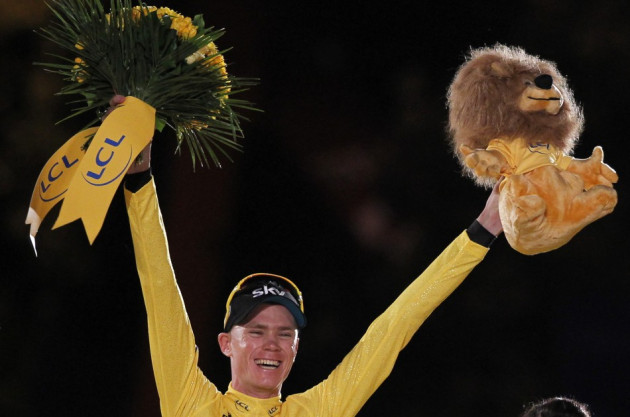 Froome's fellow Brit Mark Cavendish was bidding to win a 26<sup>th Tour stage in Paris but he was beaten to the line by Marcel Kittel and Andre Greipel as the Manxman came third in a fiercely contested sprint along the Champs Elysees.
But this was a day to remember for Froome who was handed a glass of champagne as he rode alongside the Team Sky car while surrounded by teammates in special yellow-tinted glasses.
His overall time of 83 hours, 56 minutes and 40 seconds saw him finish a full four minutes ahead of Quintana, while Joaquim Rodriguez of Spain was third and Spaniard Alberto Contador fourth.