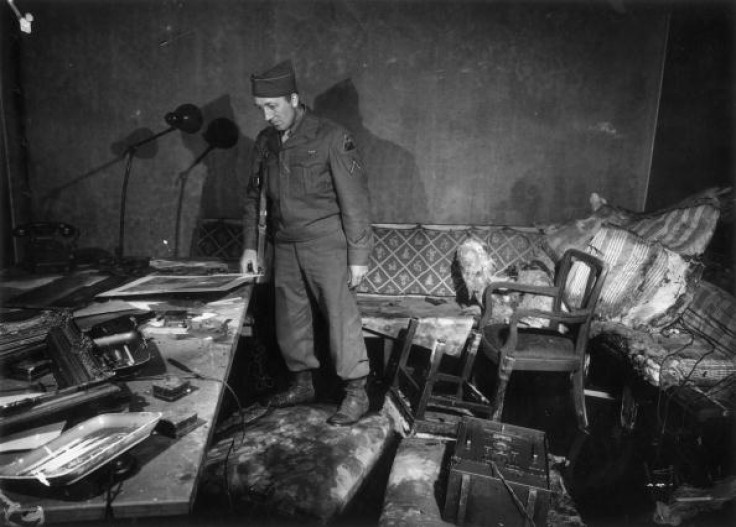 The Führerbunker where Adolf Hitler and wife Eva Braun spent their final weeks before committing suicide is to be rebuilt more than 300 miles from Berlin.
A German museum in Oberhausen, west Germany, will use original plans to recreate the inner core of the the Führer's subterranean war room. It was from this underground lair that Hitler tried in vain to launch a fight back against the advancing Red Army, before the German capital fell and the bunker was overrun on 2 May 1945.
Curators at the Top Secret museum want to rebuild the structure to remind the younger generation of the "horrors" of World War II.
"We aim to show people what it was like down in the bunker and to make sure that the younger generation stays in touch with this important chapter of world history 70 years on," museum spokeswoman Dorothy Oelbracht told The Times.
Architects will rebuild Hitler's study and bedroom, his secretary's office, the bunker's radio room - where Hitler purportedly listened to BBC news updates - and the room used by Hitler's personal physician, Theodore Morell.
A 2010 exhibition in Germany focussing on Hitler and his relationship with the German public attracted controversy for fear it might attract neo-Nazi sympathisers and there has never been an attempt to rebuild the Führerbunker in Berlin.
But museum director Ingor Mersmann has said there will be no Nazi artefacts and portraits of Hitler will be replaced with empty black frames.
The Führerbunker - Hitler's final residence

Completed in November 1944 at cost of 1.35m Reichsmarks, the Führerbunker was built below the Vorbunker air-raid shelter, close to the Reich Chancellery in Berlin.

Its roof was made of concrete almost three metres thick, while its 30 rooms were protected by about four metres of concrete.

Given its depth, conditions at the bunker were damp and pumps were continuously employed to remove groundwater. Electricity was provided by a diesel generator and well water was pumped in.

As well as Hitler and Braun, Joseph Goebbels, his wife Magda, and their six children also took up residence at the Führerbunker.

On 20 April, 1945, his 56th birthday, Hitler made his last trip to the surface as Russian forces circled the German capital.

He then married Braun on the night of 28–29 April before the doomed leader shot himself the next afternoon. His wife took a lethal dose of cyanide.

After heavy bombardment, early in the morning of 2 May, the Soviets captured the Reich Chancellery and it was left to Führerbunker mechanic Johannes Hentschel to surrender to Red Army troops.