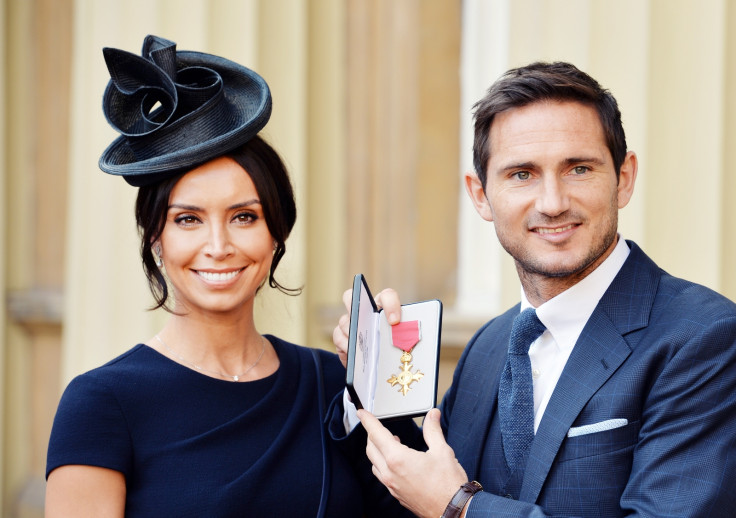 Chelsea legend Frank Lampard seems to have attracted a storm of criticism on social media following a picture-post about his wife that was deemed sexist by many of his fans. The controversial post in question featured Christine Lampard, the 39-year-old footballer's wife and their adorable pooch.
While the picture could be passed off as innocent, what seems to have struck the wrong chord with fans is the playful photo caption, where Frank referred to his wife as a "b***h".
"My two b*****s," the English football star wrote on his recent Instagram story that showed his 37-year-old wife planting a peck on their beloved furry pet, Minnie. No sooner had he shared the picture though, than fans began bombarding Frank with criticism on social media for his seemingly sexist joke.
"I am triggered by this. It is truth that patriarchy exists", Mirror Online quoted someone as saying. Meanwhile another critic added, "Men shouldn't be allowed to make jokes about women. It's oppressive".
The flurry of criticism continued as a fan slammed the Instagram upload admitting "idk how to react, all i was looking for was the Instagram pic of an overrated retiree calling his woman & dog b*****s."
While many rushed to the athlete-turned-writer's rescue on the internet by sharing the image and reiterating the fact that it was just a joke, the father-of-two ultimately avoided drama by deleting the snap.
One fan sarcastically noted, "Frank Lampard posts a pic of his wife and dog captioned "my two b*****s" deletes it later, presumably because people can't take a joke."
The Chelsea player, who tied the knot with the television presenter on 20 December 2015, is stepmother to Frank's two daughters, Luna and Isla, from a previous relationship.
However, Christina has admitted to being open to the idea of motherhood in future. "In my head, I'm still 23 or 24. But I have to accept the fact that I won't be able to have babies forever. I would love them in the future," she said during an appearance on Loose Women.