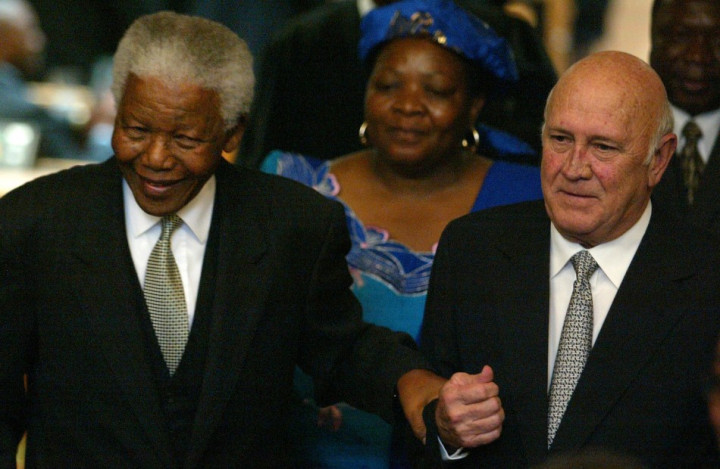 The last president of apartheid-era South Africa - the man who authorised the release of Nelson Mandela from prison - has been taken to hospital.
FW de Klerk, 77, was due to have a pacemaker fitted. He had complained of dizzy spells after returning home from a trip to Europe.
De Klerk received the Nobel Peace Prize jointly with Mandela in 1993 for overseeing South Africa's transition from white-minority apartheid rule.
A hospital in Cape Town said the former president would have a pacemaker fitted to help regulate his heartbeat.
His spokesman Dave Steward said it was just a routine procedure.
Mandela, 94, remains in a critical but stable condition at a Pretoria hospital, where he has been since 8 June after suffering a recurrence of a lung infection.
Mandela spent 27 years as a prisoner under apartheid before negotiating an end to white racist rule and becoming South Africa's first black president after the country's first all-race elections in 1994.
De Klerk served as a deputy president during Mandela's single five-year term as president.
In 1990, a year after taking the reins, de Klerk announced he was legalising the African National Congress, the leading group in the anti-apartheid movement, and authorised the release of Mandela.
He received the Nobel along with Mandela for helping the negotiate a peaceful transition.
Since retiring from politics, he set up the The FW de Klerk Foundation, which attempts to uphold the constitutional agreements upon which the new South Africa was founded, as well as helping poor and disabled children.
On the BBC in n 2012, he said when Mandela dies it would be a moment when all South Africans "put away their political differences, will take hands, and will together honour maybe the biggest known South African that has ever lived".