Gal Gadot, Jennifer Aniston and Jim Parsons get trolled on latest Celebrities Read Mean Tweets
SNL stars Kumail Nanjiani and Alec Baldwin joined Jennifer Lawrence and Elizabeth Moss as they read out mean tweets about themselves on Jimmy Kimmel Live.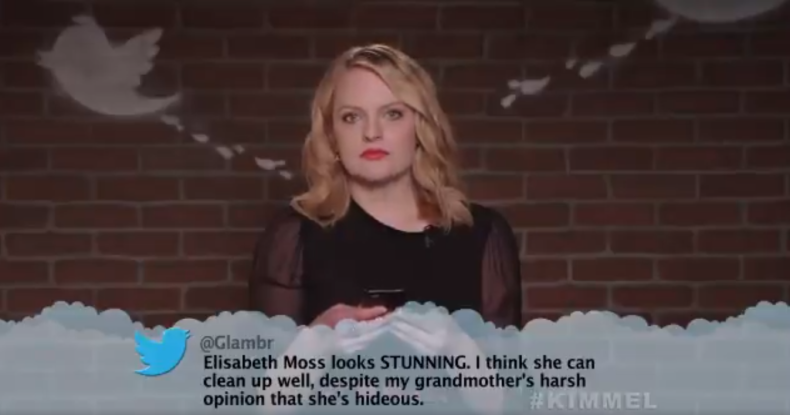 Jimmy Kimmel took a break from his criticism of the US GOP's latest healthcare bill on Monday (25 September) to share the latest episode of his late show's segment Celebrities Read Mean Tweets. This time around, we saw a range of TV and film stars read out some of the meanest and hurtful tweets about them, some feigning hurt while a few others were ready with their comebacks.
Wonder Woman star Gal Gadot may have rocked the box office, but one social media user had something to complain about. "Imma be wondering why that woman got no t*****s," the individual commented. "They're here... don't worry," the Israeli actress responded before taking a look at her breasts.
Jake Gyllenhaal also got trolled for his looks, with one person saying he had the most punchable face of all time. "I'd like nothing more than to sock him in his ugly, soft, starry-eyed pug face," the actor read the comment from his phone.
Elizabeth Moss, who recently took home an Emmy for her role in The Handmaid's Tale, had to deal with a more subtle jibe. "Elisabeth Moss looks STUNNING. I think she can clean up well, despite my grandmother's harsh opinion that she's hideous," a person using the Twitter handle @Glambr wrote.
Jennifer Aniston was mocked for her acting skills with a tweet which read, "Jennifer Aniston is what happens when a bag of flour gets its big break." She was followed by The Big Bang Theory's Jim Parsons, who was compared to "a ventriloquist dummy who came to life to become a sex offender".
Alec Baldwin got to read a mean tweet from none other than the president of the United States. "Just tried watching Saturday Night Live – unwatchable. Totally biased, not funny and the Baldwin impersonation just can't get any worse. Sad," Donald Trump wrote, referring to the actor's satirical take on the Potus.
The high point of the segment though had to be The Big Sick's Kumail Nanjiani, who responded to a very rude comment about the colour of his private parts. "Yes, every shade of your mama's lipstick," he responded with a smirk.
Kimmel also roped in other celebrities, including Jennifer Lawrence, Emma Watson, Gwyneth Paltrow, Nikolaj Coster-Waldau, Kristen Bell and Michael Keaton for Mean Tweets. Watch the video below: