As expected, Samsung unveiled its third generation Galaxy Note featuring 5.7in full HD Super AMOLED display at the Unpacked event held on 4 September in Berlin. Featuring new S Pen Stylus, the Galaxy Note 3 will be available in three colour variants: Jet Black, Classic White and Blush Pink. The manufacturer promised that the Android 4.3 powered Galaxy Note 3 will launch starting from 25 September in more than 140 countries across the globe.
Following the official announcement, some of the UK retailers have confirmed their pre-order and data plans for Samsung's new large-screen smartphone.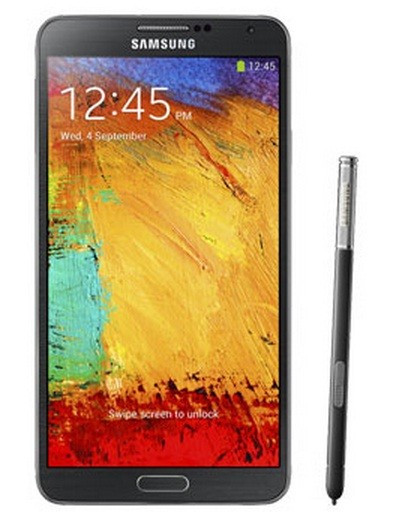 Phones 4u
UK's one of the largest independent mobile phone retailer, Phones 4u has announced the pre-order. The retailer is taking pre-order for the Jet Black and Classic White variants of Samsung Galaxy Note 3 on contacts with several networks such as EE, Vodafone, T-Mobile and Orange.
As part of promotional offer, Phones 4u is offering free case with every pre-order. Prospective buyers will get free wireless speaker worth £120 with every 4G plan. Besides, those who wish to buy the newly announced Galaxy Gear from the retailer will get £100 off.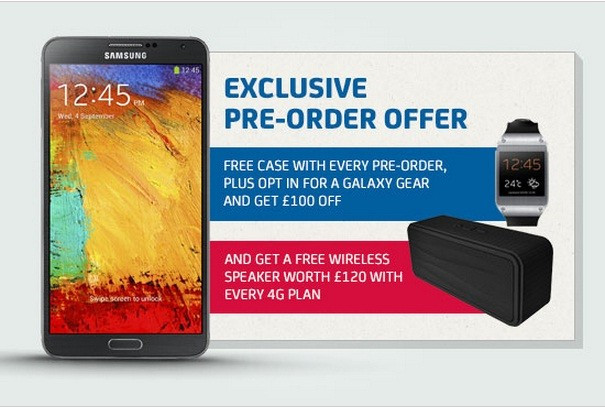 Coming back to data plans, one of the cheapest deals is from Orange, which is charging £47 a-month for 24 months with no upfront for the Galaxy Note 3. As part of the contract, Orange customers will get unlimited minutes, unlimited texts and 5GB data.
EE is charging £79 as initial payment for the Note 3 and £41 per-month for a contract period over 24 months. The price deal also includes unlimited minutes and texts, 2GB data and 4G tariff.
Vodafone customers will have to pay similar upfront amount as EE and £42 a-month for 24 months. Consumers will also enjoy unlimited minutes and texts along with 4G Tariff, which include 2GB data.
Those who wish to buy the Galaxy Note 3 from T-Mobile will have to slightly more, £179 as initial payment and £42 per month. The 24-month deal also offers unlimited minutes and texts and unlimited data.
As for the release, the retailer has mentioned that due to stock constraints, the delivery of the new handset is likely to take three to four weeks.
Click here to know more about the Galaxy Note 3 price deals by Phones 4u.
Samsung
Samsung has announced the pricing and pre-order for the Galaxy Note 3 as well as Galaxy Gear in the UK. The new Note is on pre-order at Samsung Experience Store, Westfield Stratford with a suggested retail price of £649. Samsung is taking pre-order both the Note 3 and Galaxy Gear at £848, an offer in which consumers can save £100.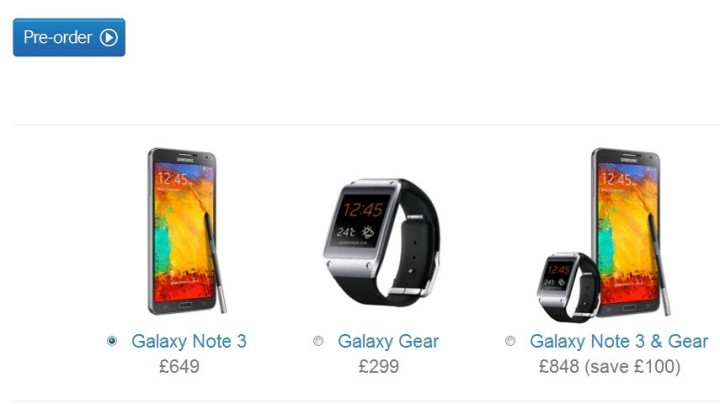 Unlocked Mobiles
The SIM-free Galaxy Note 3 in both black and white colour variant is up for pre-order at Unlocked Mobiles with a suggested retail price of £598.97 including VAT. The retailer has noted that the pre-orders are expected on 26 September.
Clove UK
Clove has also listed the Galaxy Note 3 on its site, although it is yet to reveal the price and release date.
Also read: Samsung Galaxy Note 3 Now on Sale in UK: Where to Buy