A bunch of Samsung's unannounced devices, which are recently imported to India for testing purposes, has been caught at Zauba.
Samsung has recently announced the new Galaxy S smartphone with a number of other Galaxy devices at CES and MWC event. However, this is not the end as there are several other Galaxy devices in the pipeline.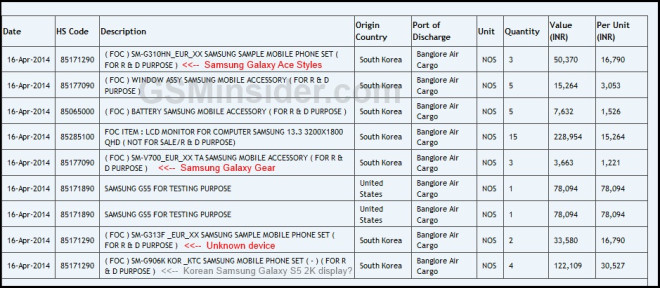 Zauba, an Indian import and export database, has listed more than 10 Samsung's unannounced devices. These devices have been shipped from Korea to India for research and development purposes.
The database includes SM-G906S and SM-G906K. Both the devices are said to be Samsung Galaxy S5 Premium Version with 2K resolution. The SM-G906S is for SK Telecom and SM-G906K is for KT carrier from South Korea. This indicated that Galaxy S5 Premium Version will be only available in South Korea initially, notes Sammobile.
Besides, the list includes several other unannounced devices such as SM-G800F, which is Samsung Galaxy S5 Neo, SM-G870 is said to be the Galaxy S5 Active, SM-W750V is ATIV SE, SM-Z9005, which is Samsung's first Tizen running smartphone.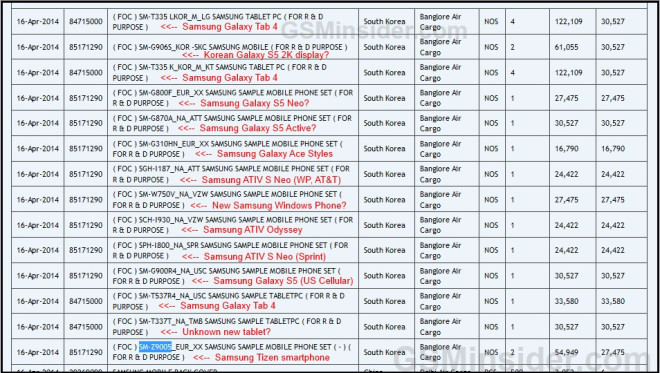 Yoon Han-kil, senior vice-president of Samsung's product strategy team has recently confirmed that Samsung's first Tizrn powered smartphone, which is expected to be a high-end model, will be launched by the end of second quarter. Besides, company is also planning for a second model, aimed at the mid-range marker for driving volume growth.
The database also includes devices, which are available for purchase such as SM-T335 Galaxy Tab 4, SM-G310HN Galaxy Ace Style, SGH-I187 Ativ S Neo, SCH-I930 ATIV Odyssey, SPH-I800 ATIV S Neo and SM-G900R4 Galaxy S5 US Cellular.
Besides, it appears that Samsung is working on a new accessory for SM-V700 Galaxy Gear, which is also listed in the database. The SM-G313F is also listed as a handset, but there is not much information on the availability of the device.