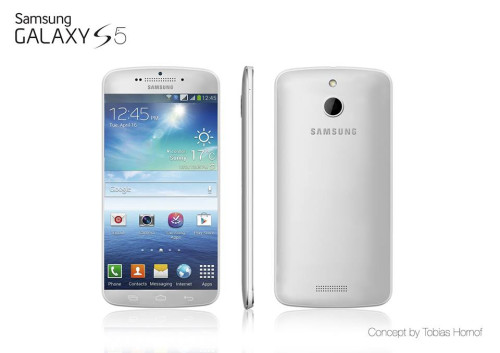 The successor to Samsung's flagship Galaxy S4, widely known as Galaxy S5, will reportedly make its debut next month at Mobile World Congress (MWC).
There ahve been rumours for months that Samsung will make an announcement about the Galaxy S5 at MWC, scheduled to take place from 24 to 27 February in Barcelona, but these rumours have been given a lot more credence with an apparent official confirmation from Samsung.
The official confirmation is by Samsung's Vice President and Head of Design Strategy, Dong-hoon Chang. According to Korean site inews24, while attending a New Year party in Seoul, Chang responded to queries regarding the launch of Galaxy S5 at MWC event, saying "about right."
Additionally, Chang revealed that the Galaxy S5 will use new material, adding to the rumours that Samsung's new flagship smartphone will use metal rather than plastic.
Chang was also asked about the reports of a flexible display being included, saying this was still "under review."
How reliable these quotes are is anyone's guess, and the idea that a phone would be launched next month while design decisions are still under review, seems implausible to say the least.
Samsung Galaxy F
However reprots of a Samsung smartphone with a flexible display and premium construction could relate to an entirley different phone, dubbed the Galaxy F.
The inclusion of a flexible display would suggest that the Galaxy F will be produced in limited quantities as well as being much more expensive, reports Sammobile.
Recently, Samsung has been rumoured to be launching the Galaxy F featuring a metal construction, around the same time as the Galaxy S5. The metallic prototype of the device was reportedly developed in Europe and then moved to Samsung's production plant in Vietnam.
It has been reported that the Galaxy S5 has already entered mass production, indicating that its launch is imminent.
The device is expected to feature a 5.25in AMOLED display of with super-high resolution of 2560 x 1440 pixels, giving it a pixel density of 560 pixels per inch (ppi) - which is twice that of a HD display (1280 x 720 pixels).
The QHD display of Galaxy S5 is said to have a diamond pixel arrangement like the Galaxy S4 and the Note 3, which is green pixels interleaved with alternating red and blue pixels, but each red and blue pixels shaped like a diamond for better sharpeness and pixel density.