Galaxy S5 Pre-order Prices and Availability for UK and Europe Revealed
Galaxy S5 up for pre-orders on Clove UK, Unlockd-Mobiles, Amazon Germany and Amazon Spain
Samsung recently unveiled the highly-anticipated next-generation flagship smartphone, the Galaxy S5, at the Mobile World Congress (MWC) in Barcelona.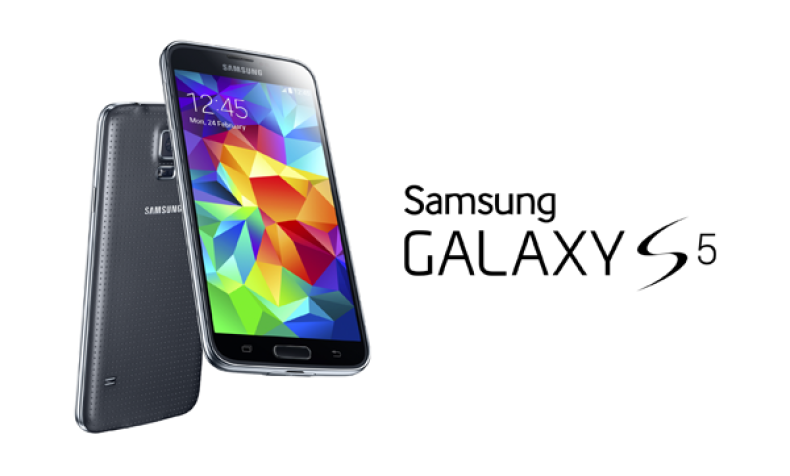 Though the first available stock for the Galaxy S5 is due for 11 April, several UK and European online retailers have already listed the flagship phone for pre-orders with their respective price details.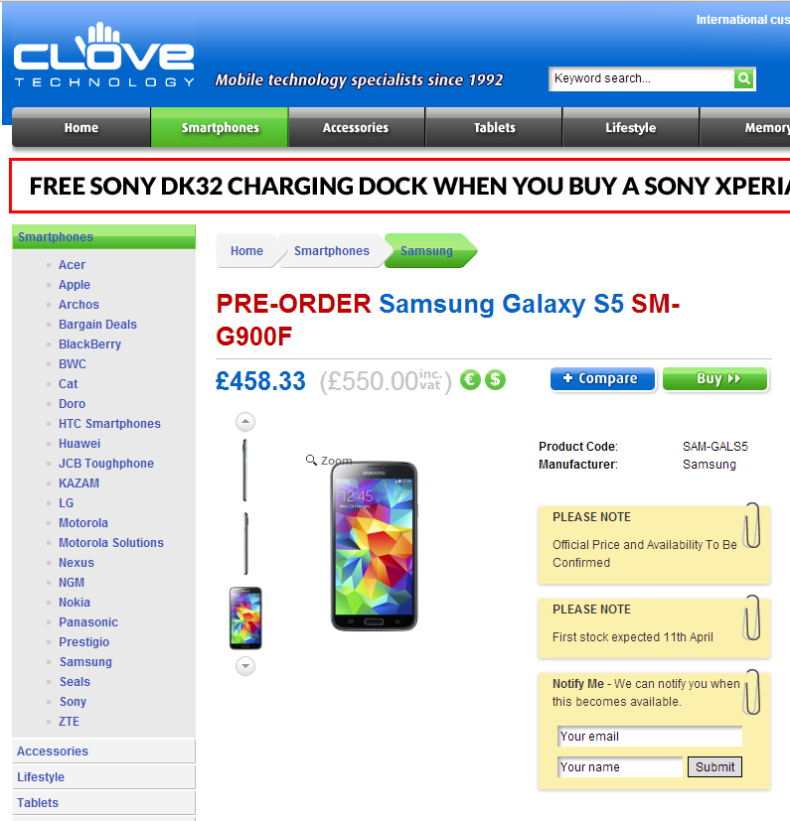 The 16GB model of the Galaxy S5 is now up for pre-orders at £550 (including VAT) via Clove UK. The handset will be available in black and white variants, starting 11 April.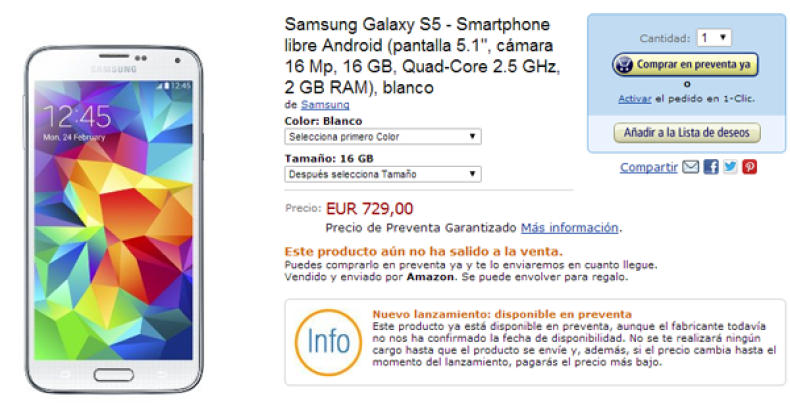 The pricing details of the 16GB variant of Galaxy S5 have also surfaced online via a couple of European retail websites, Amazon Germany and Amazon Spain. The pre-orders for the S5 are now available with European retailers at €699 and €729 respectively.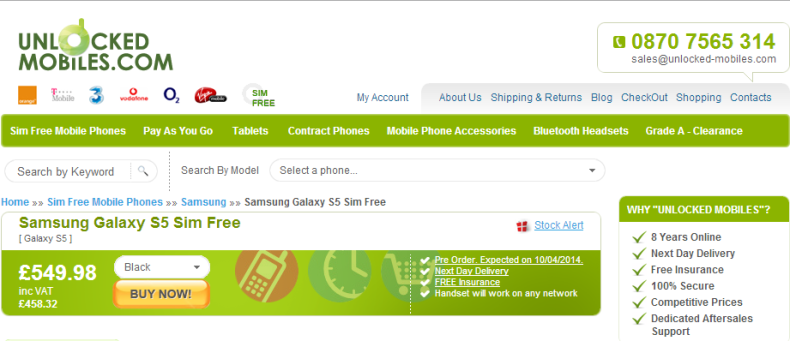 Another popular UK retailer, Unlockd-Mobiles, has listed the SIM-free version of the smartphone for pre-orders at £549.98. The retailer will be stocking the handset in white, black and blue variants starting 10 April with next day shipping option.
The handset is expected to hit the global market constituting 150 countries, starting 11 April. The prices may vary post release date for the handset, depending on market demand and supply constraints.
The Galaxy S5 comes with a host of power-packed features including a 5.1in full HD Super AMOLED display with Corning Gorilla Glass protection, powered by quad-core 2.5GHz Snapdragon 801 processor with 2GB of RAM and 16MP rear-facing camera with 4K video recording support.
Among other key features, the handset supports a heart rate monitor, fingerprint sensor, a powerful 2,800 mAh battery and run Android 4.4.2 KitKat with TouchWiz UI support out-of-the-box.
On the lines of Sony's Battery STAMINA mode for its Xperia devices, Samsung has introduced the Ultra Battery Saving Mode with the potential to extend battery-life up to 24 hours at 10% available battery charge.
In addition, the Galaxy S5 brings Selective Focus (ability to change the focus point after shooting a picture), Private Mode to hide confidential user files and apps, Kids Mode and the pre-dominant finger print sensor accessible via the phone's home button.
The fingerprint sensor replaces traditional username/password login process to unlock the device, enables cashless payments via PayPal and offers quick access to activate/deactivate Private Mode.
In related news, it is widely speculated that the South Korean company executives recently discussed their plans on unveiling a super-smartphone from the luxury F-line series, which is touted to be the premium Galaxy S5 variant. The premium model of S5 is expected to launch in May and this could actually bring down the price of the regular S5 model.