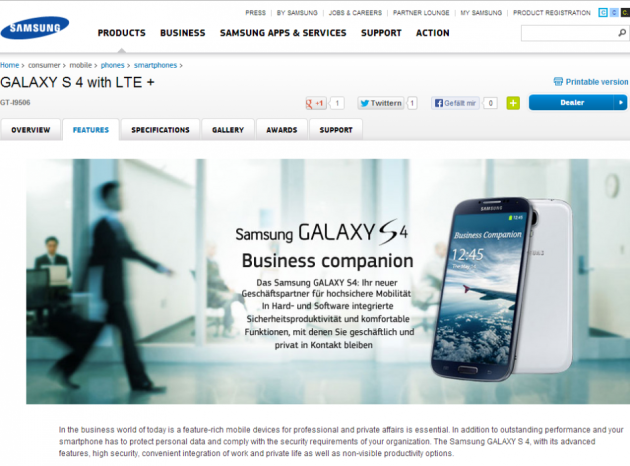 The new Snapdragon 800 powered Galaxy S4 (LTE-A) has finally arrived in Europe, following its exclusive launch in South Korea. The upgraded Galaxy S4 variant features four processor cores clocked at 2.3 GHz, besides supporting the new LTE Advanced (LTE-A) technology with speeds up to 150mbps.
The new LTE-A variant of Galaxy S4 has reportedly been spotted on the Samsung Germany official website by SamMobile. According to the site, the smartphone will be available in White Frost and Black Mist options at the time of release.
"In the business world of today is a feature-rich mobile devices for professional and private affairs is essential. In addition to outstanding performance and your smartphone has to protect personal data and comply with the security requirements of your organization. The Samsung GALAXY S 4, with its advanced features, high security, convenient integration of work and private life as well as non-visible productivity options," reads the advert (Google Translation).
Those who are looking for powerful hardware specifications with the latest LTE-A capabilities may opt for the new Galaxy S4 variant. In addition, the rugged variant of Galaxy S4 (aka S4 Active) with the latest Snapdragon 800 processor upgrade is also on the cards.
The new Galaxy S4 comes with a host of advanced platform security and application security features, besides Mobile Device Management (MDM) capability.
Platform Security
Samsung Knox: Platform Security introduces a handful of advanced security features such as Samsung Knox, which strictly adheres to the security policies and guidelines provided by the U.S. Department of Defense (DOD) Mobile OS Security Requirements Guide (SRG). With this technology your smartphone is protected at the operating system level against backdoor trojans, hackers, malware and spyware.
Customizable Secure Boot (CSB): It provides the first line of defence to ensure only verified operating system and driver files are loaded at boot during system Start-up.
Trust zone-based Integrity Measurement Architecture (TIMA): It does protect, monitor and verify the integrity of kernel status with rule-based actions in response to attacks via kernel or boot loader.
Security Enhancements for Android (SE for Android): It is a security technology developed by NSA that is integrated into Android applications and data stores depending on the confidentiality of information in different areas.
Application Security
Application Security includes Samsung Knox solutions to protect individual apps and Knox container which isolates critical application data from personal components to create a secure environment in the smartphone.
Other security features ported into Application Security for the device include: On-Device Encryption (ODE) and Virtual Private Network (VPN). ODE is the file system which uses Advanced Encryption Standard (AES) algorithm with a 256-bit key encryption, while VPN is a FIPS-certified, optimised network connection for intranet of the company.
Productivity Suite: The new productivity features built into the device's native software include Air View, S Translator, Sound and Shot and Group Play.