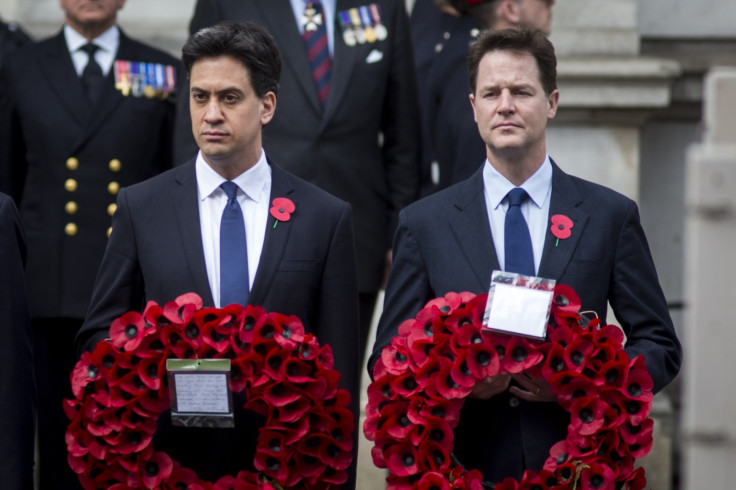 The Queen and Prince William are attending ceremonies marking the centenary of the Gallipoli campaign in World War One.
After observing a two-minute silence the Queen laid a wealth at the Cenotaph, Whitehall, on Saturday (25 April).
She was joined by Prince William and senior government and military figures at the memorial parade, including Prime Minister David Cameron, Deputy PM Nick Clegg, and Labour leader Ed Miliband.
On Saturday afternoon, the Queen and Prince Philip – who is patron of the Gallipoli Association – will go to Westminster Abbey for a service of commemoration, and the Queen will lay a wreath at the tomb of the Unknown Warrior.
Earlier on Saturday, Prince Philip attended a wreath laying ceremony at St Paul's Cathedral in London.
The Queen wrote in the official programme: "On this, the centenary of the start of the Gallipoli Landings, we come together with friends and partners from around the world, to remember the bravery of all those who served, and in particular those who paid the ultimate price for the freedoms we enjoy today."
Dawn ceremony
Earlier on Saturday, a dawn ceremony in Turkey was attended by scores of dignitaries from across the world including Princes Charles and Harry.
Australian Prime Minister Tony Abbott and his New Zealand counterpart John Key were among those in attendance.
A second day of services in Australia, Turkey and New Zealand is also being held to mark the landing of allied forces in Gallipoli.
The eight-month campaign on the Gallipoli peninsula, in modern day Turkey, was one of the bloodiest of the war and the first to involve troops from Australia and New Zealand.
Record numbers of people in Australia and New Zealand are observing Anzac Day, which marks the landing of their troops in Turkey in 1915.
The failed military invasion resulted in the death of about 11,400 soldiers from the two countries.
An estimated 131,000 people were killed during the fighting in 1915. Of them, 45,000 were from the Allied forces, including 25,000 British fatalities, and 85,000 from Turkey.