Gallipoli anniversary: How 2001 Anzac Cove trip changed my life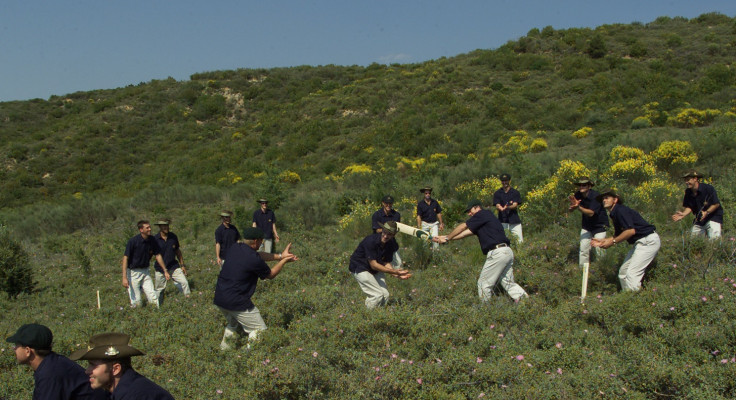 The idea for the Gallipoli trip came about when I had a meeting with General Peter Cosgrove, head of the army in Australia. We got talking about the Ashes tour of 2001, and how I had never been to Gallipoli. I didn't know about it, even though it was such a prominent part of our history.
Cosgrove hadn't been there either, so I just said "mate, we should take the cricket team to Gallipoli on the way to England for the Ashes series, to learn about our past, where the spirit of the Australians was forged. Something we could look back on in years to come." It wasn't the normal, team bonding experience, it was something we could take away for the rest of our lives.
When I told the players they were excited, probably a bit surprised, and it was probably something that didn't really hit home until we were in Turkey in Istanbul. All of a sudden we were on the bus on the way to Anzac Cove, where the full enormity hit a lot of players. Our tour guide was fantastic, explaining the history of each spot.
It's hard to pick out a particular moment from the experience. Just standing in places where these ferocious battles had taken place, and thousands of people were lost, was moving. Lone Pine, were 6000 people died in two days on a piece of ground no bigger than two tennis courts, was incredible. Just standing there and trying to imagine what the battle was like, and how the people were feeling, was powerful.
I guess what struck me most was the graves, in particularly the ages etched on them; 18, 19, 20. You put yourself in that position and realise how terrifying it must have been, how surprising it must have been.
A lot of the players were shaken up by what they saw, but I remember people saying and doing some amazing things. John Buchanan, our coach, wore his father's war medals on his chest for the two days we were there. Patrick Farhart, our phsyio, was (and is) of Lebanese descent. He made a very moving comment when we got to England, saying he'd never felt 100% Australian until he'd stood at the Nek ridge, and in the trenches. The rest of us were really moved to hear him say that.
The Gallipoli trip came just a year after the Sydney Olympics, and I believe a collective spirit of patriotism really began to blossom in this period. The way we respected our flag, the way we appreciated Australia for the great nation it is, really began to gather momentum. There was almost this movement, and the spotlight on Gallipoli really increased. Today people in Australia are more aware of Gallipoli than they were 20 years ago; young people make the trip we made as a pilgrimage.
But I still don't think our schools teach enough about our history, and how it has shaped Australians to this day. The spirit of Gallipoli is in all Australians; we have that larrikin element, a sense of pride in our country, and a sense of mateship. I believe these traits were all forged on the battlefields of Turkey.
Personally I'd love to take my family back there, and visit some of the other battlegrounds, as well. Fourteen years have passed since that trip to Turkey, but the spirit of Gallipoli has never left me.
Steve Waugh is one of Australia's greatest-ever cricketers, having scored 32 centuries in 168 tests for his country and captain them during a period of sustained dominance.
Today he runs the Steve Waugh Foundation, which looks after children and families with rare diseases, supplying grants to affected individuals. For more information visit the foundation's website or follow them on Twitter @SWFAustralia.
© Copyright IBTimes 2023. All rights reserved.