Gambian authorities must put a halt to a brutal crackdown on freedom of speech that has resulted in the arrest of dozens of people who demanded political changes, a rights group has urged. Amnesty International claimed the country should face suspension from the Economic Community Of West African States (Ecowas) unless it ends a "brutal repression" months ahead of a presidential election, which will be held on 1 December.
Hundreds of people have been calling for electoral reform and political change in the Gambia. Authorities deemed the protests, started on 14 April, illegal as demonstrators failed to obtain permission from the police.
As a result, at least 50 people were arrested. It is feared that Solo Sandeng, secretary of the opposition United Democratic Party (UDP), died alongside two others while being held in detention. Human rights groups have so far confirmed on 18 April that Sandeng had died.
Under hashtags such as #GambiaRising, Gambians are also involved in social media campaigns that aim to shed light on abuses which have allegedly occurred.
"Gambia's elections are just six months away and yet opposition members are arrested and beaten, journalists are muzzled, and civil society muted," said Alioune Tine, Amnesty International regional director for West and Central Africa. "Gambia has a long and brutal history of repression of critical voices, and demonstrators such as Solo Sandeng have paid a high price for peaceful protest."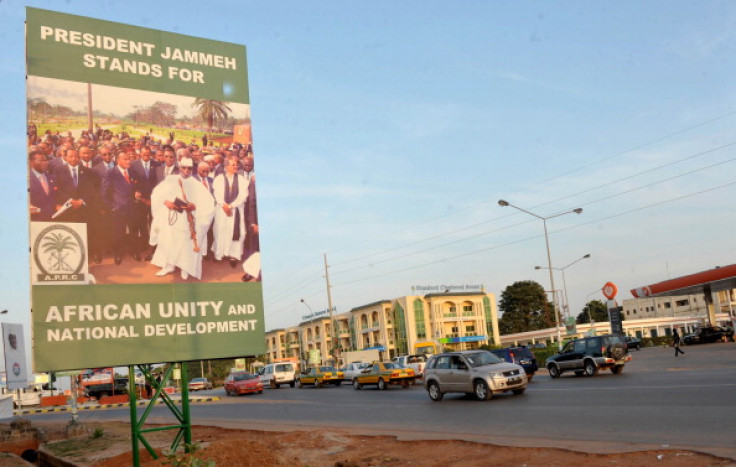 Trial and torture allegations
UDP leader Ousainou Darboe and 19 others are standing trial in connection to the April protest. The defendants were denied bail after being charged with conspiracy to commit a felony and had previously been charged with assembling unlawfully, as well as rioting, inciting violence and interfering with vehicles. They all pleaded not guilty.
In a public address to the nation on 18 May, President Yahya Jammeh defined members of the Gambian opposition as "opportunistic people supported by the West". He added: "I will bow to only Allah and my mother. I will never tolerate opposition to destabilise this country."
Reasons behind protests
In power since 1994, President Yahya Jammeh has been accused of undermining an effective opposition by raising the costs to register a political party.
Under the new law, anyone who wants to register a political party or run as presidential candidate has to pay 500,000 dalasis (£8,240, $11,870). Critics argue it undermines pluralism in the economically-stagnant country, where nearly 50% of the population still live in poverty.
The government said the law was necessary to ensure parties were properly organised. However, protesters are calling for electoral changes and the stepping down of Jammeh.
More on protests in Gambia here.
The government's response to the demonstrations sparked international outrage, with the United Nations (UN) and rights groups calling for an independent investigation into the deaths and arrests.
"At least 36 more people remain detained without charge," Amnesty continued. "No thorough, impartial, independent and transparent investigation into Sandeng's death has taken place, despite appeals by the United Nations, Ecowas, African Commission on Human and Peoples' Rights, European Union and the United States.
"On 29 May President Jammeh told magazine Jeune Afrique that 'People die in custody or during interrogations, it's really common. This time, there is only one dead and they want investigations? No one can tell me what to do in my country.'"
Amnesty's report also includes evidence of human rights abuses which occurred since the presidential election in 2011. Ecowas refused to monitor the election due to "intimidation, an unacceptable level of control of the electronic media by the party in power, the lack of neutrality of state and parastatal institutions, and an opposition and electorate cowed by repression and intimidation".
Ecowas is to hold the 49th Extra-Ordinary Summit in Senegal's' capital, Dakar, on 3 June.