Gambian diplomat Samsudeen Sarr allegedly threatens to shoot protesters in leaked tape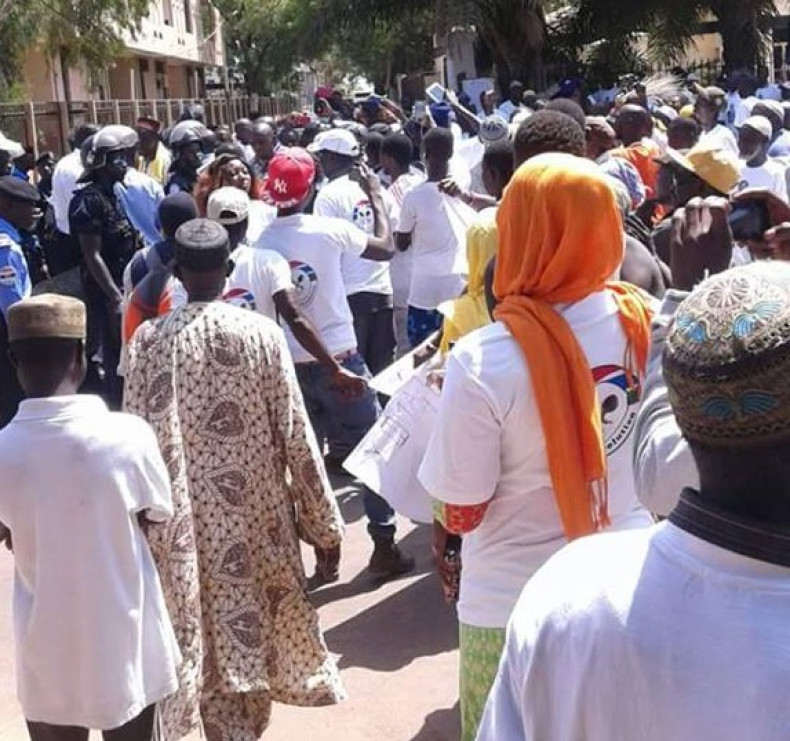 An audio clip containing controversial remarks reportedly made by Gambia's deputy ambassador to the United Nations has emerged. It is believed that Samsudeen Sarr was recorded while saying he would open fire on people, presumably referring to protesters rocking Gambia's capital, Banjul.
"If I were there, and I was in charge, I would open fire on anybody," the diplomat, who lives in New York, was alleged to have said. The clip surfaced on 9 May, hours after activists and the opposition claimed security forces attacked people who had gathered outside the High Court in Banjul, as opposition leader Ousainou Darboe appeared for a court ruling.
Sarr has not made any comments regarding the remarks attributed to him, while the Gambian embassy in London has not replied to a request for their reaction to the audio clip. IBTimes UK understands the identity of the person believed to have recorded Sarr has not been disclosed for security reasons.
"The United Nations should immediately discipline and if possible revoke Mr Sarr's status as Gambian diplomat to the UN because of his irresponsible statement against peaceful and unarmed protesters. Such remarks can only fuel further tensions and thereby jeopardise the safety and security of protesters," Gambian journalist and activist Sainey MK Marenah told IBTimes UK. "Such comments have no place in our political discourse and Sarr's actions again demonstrate his lack of respect for his office."
Jeffrey Smith, an international human rights consultant who has worked with Gambian activists, believes Sarr's alleged remarks were not surprising. He told IBTimes UK: "These odious, though not entirely surprising remarks, now give the international community valuable insight into the mindset of Gambia's top government officials. That one of Gambia's top diplomats has openly endorsed the killing of peaceful protesters should, once and for all, dispel of any remaining notion that the Jammeh regime is capable of governing in a responsible or humane manner."
April protests
Darboe, head of the United Democratic Party (UDP), is standing trial, together with 19 other activists, in connection with a protest held earlier in April 2016. The defendants were denied bail after being charged with conspiracy to commit a felony and had previously been charged with assembling unlawfully, as well as rioting, inciting violence and interfering with vehicles. They all pleaded not guilty.
It is believed more than 50 youths and members of the opposition were arrested after taking to the streets, calling for electoral reforms and the resignation of Gambian President, Yahya Jammeh, who has been in power since 1994. Authorities deemed the protests illegal as demonstrators had failed to obtain permission from the police.
In the aftermath of the arrests, Sarr claimed the protests had been planned by dissidents based in the US and Western Europe, some of whom are allegedly linked to a failed coup d'etat in 2014, aimed at overthrowing Jammeh.
The official also alleged that dissidents were using "Western-based" radio stations to incite tribal fighting in the country, pitting people from the Mandingo (Darboe'stribe) against the Jolas, the ethnic group to which Jammeh belongs.
It is feared that UDP secretary, Solo Sandeng, died alongside two others while being held in detention. Human rights groups have so far confirmed only Sandeng's death, which triggered further demonstrations culminating in Darboe's arrest.