A white South African judge has been widely criticised after claiming that rape is part of black people's culture. Judge Mabel Jansen was urged to quit the bench at the Gauteng High Court after the emergence of Facebook comments where she suggested sexual violence against girls and babies was a "pleasurable" pastime for black people.
"In their culture, a woman is there to pleasure them. Period. A woman's consent is not required. I still have to meet a black girl who was not raped at about 12," read a post attributed to Jansen. "Murder is also not a biggy. And gang rape of baby, daughter and mother a pleasurable pass [sic] time,"she continued.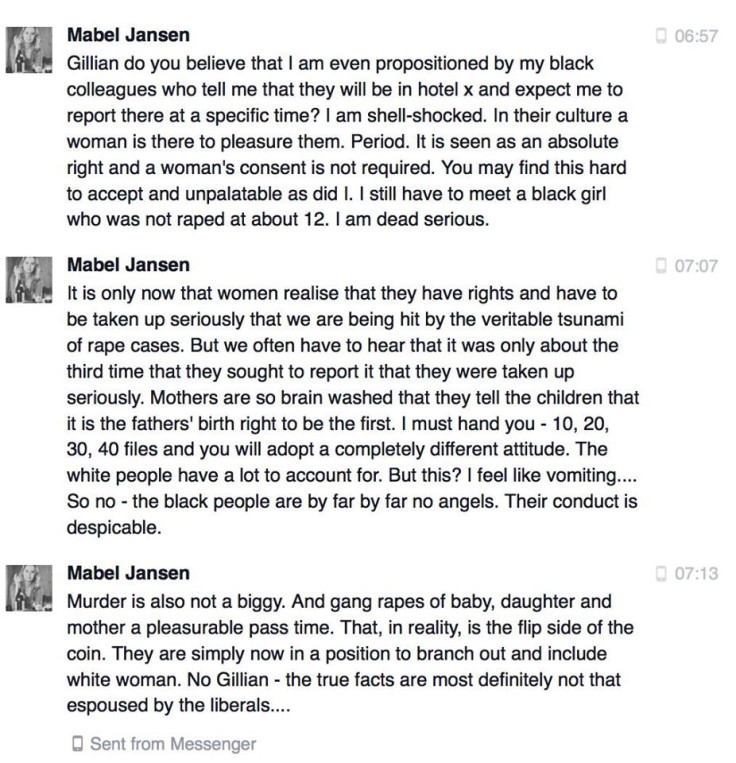 Following widespread criticism, Jansen said her comments were taken out of context and she was referring to specific cases of sexual violence during a private Facebook chat she had in May 2015 with activist Gillian Schutte, who, nearly one year later, published some extracts of the conversation.
"I was referring to specific cases. It was within that context. She knew I was not generalising," Jansen told News 24. "It is very bad when you are attacked on this basis, when you know it is the opposite. I don't know what she is trying to do."
Schutte justified her decision by saying that she wanted to expose the "deep racism and colonial thinking" in South Africa.
Both the ruling African National Congress (ANC) and the opposition Democratic Alliance (DA) condemned Jansen's comments, while hundreds of people took to social media to vent their outrage. Nearly 5,000 people have also signed a petition calling for Jansen's removal.
Following the incident, the government said it intends to tighten anti-racism laws in the country, where the white-minority rule ended in 1994.