Sansa Stark might just be on her way to becoming the most bad**s character on Game of Thrones. According to new spoilers, Sansa could be the centre of one of the darkest subplots from the Game of Thrones novels.
Game of Thrones season 5 potential spoilers ahead
In the Game of Thrones season 5 leaked episodes, we witness Sansa Stark and Petyr Baelish reach the Roose Bolton controlled Winterfell.
Littlefinger's grand scheme involves marrying Sansa Stark off to the psychotic torturer Ramsay Bolton. Sansa is appalled by the plan at first, since it would involve her marrying into the Bolton clan, whose patriarch Roose was instrumental in the Red Wedding that killed Rob and Catelyn Stark in Game of Thrones season 3. (via iDigitalTimes)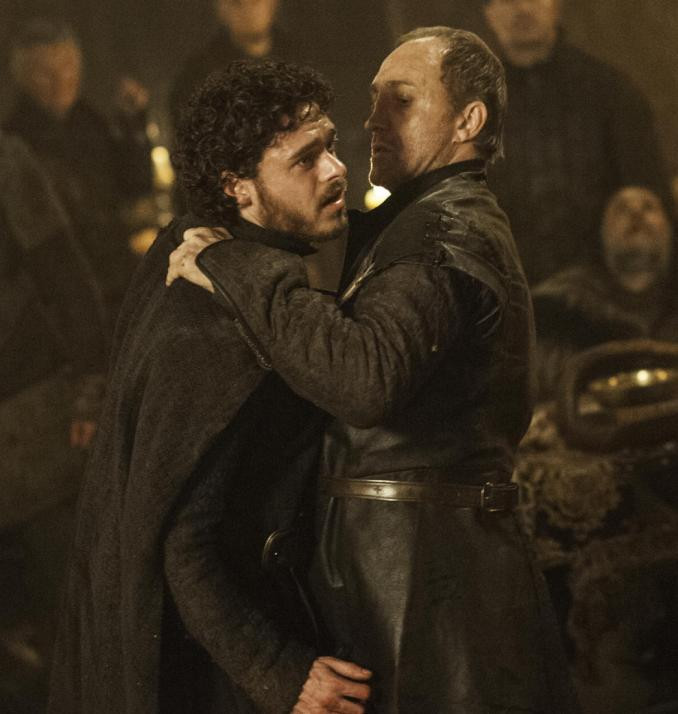 But the shrewd and cunning Littlefinger convinces Sansa that marrying the Bolton bastard would allow her to take control of her vengeance, ending her time as a spectator in ruthless Game of Thrones.
Littlefinger's speech to Sansa in the Game of Thrones season 5 leaked episodes, meant to empower her (to his own advantage), might have some gory unintended consequences for Boltons. To understand why, takes a bit of digging into the latest Game of Thrones novel - A Dance with Dragons.
It is implied in A Dance with Dragons that a character named Wyman Manderly kills three members of the Frey family, bakes them into a pie and feeds them to the Freys and Boltons, calling it, "The best pie you have ever tasted, my lords. Wash it down with Arbor gold and savor every bite. I know I shall."
To rub it in, Wyman has a musician play a song about the Rat Cook, an infamous character from Game of Thrones history who served a pie to a king, the king's own son cooked inside.
However, in the slightly different, Game of Thrones series, there is no Wyman Manderly. But that character can be replaced by Sansa Stark.
"There's a good possibility Sansa Stark will spend a portion of Game of Thrones season 5 episodes on a cannibalistic killing spree," states the iDigitalTimes report.
Could it be that Sansa kills Ramsay, makes a pie out of him and feeds it to his father Roose Bolton - the current Warden of Winterfell and the murderer of her brother Robb Stark?
Game of Thrones has definitely mentioned the Rat Cook before (it came up in the abandoned castle where Bran met Samwell Tarly in Game of Thrones season 3).
In an earlier interview with HuffPost Entertainment, actress Sophie Turner hinted at how season 5 takes Sansa Stark to a whole new level.
"There's some massive moments, perhaps even more shocking than the Red Wedding type of thing," she said.
The actress opened up as much as she could about Sansa Stark's upcoming traumatic scene in season 5. When asked to rate that scene on a scale of one to 10, with 10 being the Red Wedding, Turner replied, "I think I really bigged that one up. It's traumatic... It's a pretty intense scene. I can't say much more than that [sic]."
Meanwhile, Game of Thrones season 5, episode 2 titled, The House of Black and White airs this Sunday, 19 April on HBO at 9pm.
Click here to watch the episode via live stream online.