The Season 4 finale of the popular HBO series, Game of Thrones, was just a few months ago, but fans are already eager to know what will happen in Season 5.
According to recent reports, Game of Thrones Season 5 will air sometime in April of 2015, but exact dates are not confirmed. While the official release date is still up in the air, there are a lot of speculations about the upcoming Season 5.
Ciaran Hinds confirmed that his character, Mance Rayder, will be returning on Game of Thrones Season 5.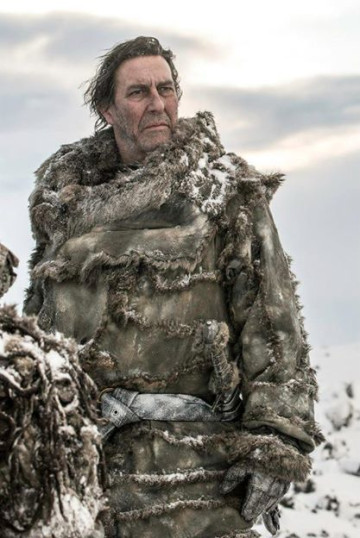 Hinds, who plays the role of the King Beyond the Wall, was first introduced in Season 3. He appeared again in the final episode of Season 4, where he submitted to Stannis but still refused to kneel or bow his head before him.
In an interview with a fan site, the actor confirmed his return to the hit HBO series.
Hinds said, "On Game of Thrones I have not yet been roasted, crucified, slaughtered or whatever they do with people in that show eventually, so I will be coming back for shooting again in the fifth series."
Meanwhile, it was reported that the filming of Game of Thrones Season 5 has started. Website Winter Is Coming reported that filming at Portstewart Strand is wrapped.
Meanwhile, there are several pictures of the set on Flickr from herringpond, who managed to get some very nice quality shots of the few scenes filming in Portstewart Strand.
The new pictures provide the best look at the Dornish guards, including the amazing costume work.
The show will be shooting until November. The website added that the production has started in Northern Ireland where most of the sets of the show are located.
Game of Thrones Season 5 will also feature some of the familiar locations in the series. There were reports that the big HBO production is location hunting in Croatia for the fifth season. Reports also claimed that the cast and crew are heading to Iceland to film a very limited amount of daylight hour before transferring to Spain to shoot the Dorne scenes for the popular TV show.
Recently, show creator George R.R. Martin said that he won't be involved at all in the current season because he is too busy writing Game of Thrones sixth installment.
Martin said in a Zap2it interview that he is putting the finishing touches to the sixth book, The Winds of Winter.
"It usually takes me a month to write an episode of the show,I decided I'd better skip this one and just concentrate on finishing the book," he added.