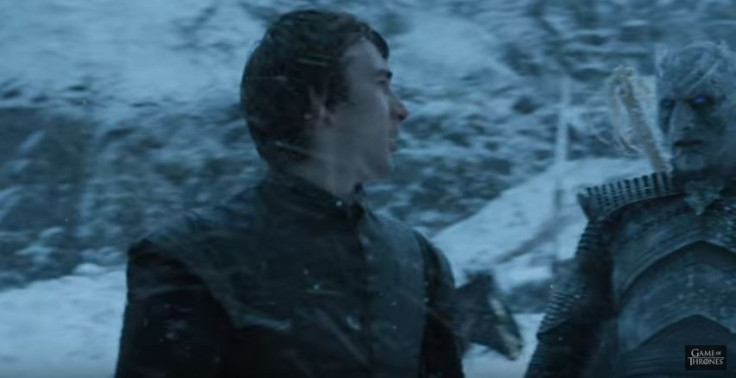 Contrary to the Memorial Day tradition, HBO will air Game of Thrones Season 6 on its regular air time on Sunday, 29 May. The previous instalment of the fantasy series left fans at an emotional juncture as the beloved Hodor died while saving Bran Stark from the Night's King and his swarming White Walkers.
Meera Reed tried to save Ned Stark's son from the fast reaching danger by dragging him away from the cave while Hodor was holding the door to keep the walkers away. The heart- wrenching moment left fans wondering about the safety of Bran.
Click here to login to HBO Go and watch the episode live online. The HBO Now website will also stream the episode from any web browser or computer, as long as you have an account.
According to Winter is Coming website, the Sky Atlantic Germany website, has leaked the titles of episodes 8, 9 and 10 as No One, The Battle of the Bastards and The Winds of Winter. The website suspects that the titles suggest a massive confrontation between Jon Snow and Ramsay in episode 9 and the looming danger of the White Walkers in episode 10.
In the official promo released by HBO, "I'm so sorry," Meera cries worriedly while Bran still appears to be in some kind of vision as his eyes remain white. But there might be another possibility that he is trying to save his life and that of Meera's by entering someone's mind and fight with the undead.
The promo devotes a major chunk to King's Landing and the Lannisters' struggle against the High Sparrow. As Margaery gets ready to face her fate at the hand of the Faith Militants, Jaime Lannister rallies with his troops to silence the High Sparrow once and for all. Fans will learn about the outcome of the faceoff in the upcoming episode.
After burning Khal Moro, Daenerys Targaryen and adviser Daario Naharis embark on another journey along with thousands of Dothraki. Her destination is still unknown but it appears Dany is determined to get her wishes fulfilled. "I take what is mine," she tells her lover-cum-adviser in the promo.
GOT season 6, episode 6 will air on 29 May at 9pm EST on HBO in the US and on 30 May at 9pm on Sky Atlantic in the UK.