Ganesh Chaturthi 2016: Mythology and top messages to celebrate the birth of the elephant-headed God
This year the Ganesh festival will begin on 5 September.
Indians around the world are gearing up to celebrate the festival of Lord Ganesha, also known as Vinayaka Chaturthi or Ganesh Chaturthi. The popular Hindu festival marks the birth of Lord Ganesha, the son of Lord Shiva and Parvati. The day generally falls around mid-August or mid-September. This year, Ganapati celebrations will begin on 5 September.
States in India such as Maharashtra, Gujarat, Karnataka, Telangana and Andhra Pradesh will bustle in festivities over the next 10 days to mark the birth of the elephant-headed God.
The auspicious day of Shukla Chaturthi (the festival) in the month of Bhadrapada is commemorated as the birthday of Lord Ganesha. Legends of his birth are as interesting as the 10-day long celebrations. According to mythology, Lord Ganesha is "worshipped as the lord of beginnings and as the lord of removing obstacles". He is also revered "as the patron of arts and sciences, and the god of intellect and wisdom".
He is believed to be the son of Lord Shiva and Parvati. To celebrate the festival, Hindus erect colourful clay images of the deity in temporary shrines at public places and hold prayer services all through the day.
After the 10-day celebrities conclude, devotees bid farewell to their favorite god and immerse the clay statues in ponds, lakes or the sea.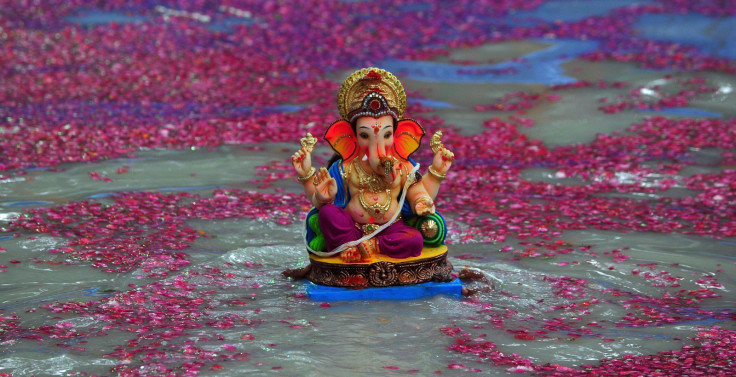 Here are top messages to wish your loved ones a happy Ganesh Chaturthi:
1. Lord Ganesha is very fond of Modhakam and Sundal, so don't forget to please him with these offerings on this day. Happy Ganesh Chaturthi!
2. May Lord Ganesha remove the obstacles of your life, provide you with auspicious beginnings, inspire you with creativity and bless you with intellect and wisdom. Happy Ganesh Chaturthi!
3. May Lord Ganesh bless you with worldly bounties and keep you and your family protected from obstacles at all times! Happy Ganesh Chaturthi!
4. I wish u a Happy Ganesh Chaturthi and I pray to God for your prosperous life. May you find all the delights of life. May your all dreams come true.
5. Wish you a blessed Ganesh Chaturthi and many prosperous days ahead. May the blessings of Lord Ganesha continue to shine on you and your Family.
© Copyright IBTimes 2023. All rights reserved.