Mother Teresa is to be canonised as Catholic saint at the Vatican City, after two 'miracles' have been officially attributed to her since her death. The nun, who founded the Missionaries of Charity in India, a global missionary that consisted of over 4,500 nuns, will be honoured 19 years after her death in a two-hour mass, led by Pope Francis, in St Peter's Square.
The mass, which will be held on 4 September, is to be expected to be attended by tens of thousands. During her life, Mother Teresa won a Nobel Prize for her charity work with the poor in Kolkata. The charitable religious order she founded still has centres across the world, with thousands of nuns and volunteers running soup kitchens, shelters, hospices and orphanages.
To be canonised as a Roman Catholic saint, evidence of two miracles – such as appearances after death or spontaneous healing of the sick – need to be submitted to the Vatican. Specialist investigators then look into the the supposedly supernatural events to see if they have any natural or scientific explanations. If the investigation cannot find any other explanation for the event, it maybe classed as a miracle.
Mother Teresa's first miracle was said to be performed in 1998 in the remote rural village of Balurghat, northeast India.
Monica Besra, a mother of five, claims she was cured of stomach tumours by praying to an image of Mother Teresa. Besra says she "shivered" when she saw light emanating from the image of the Macedonia-born nun, after being told by the Missionaries of Charity organisation to pray to their figurehead.
Besra told Sky News that medication had failed to ease her pain. "I was sitting in the church and then, from the picture of Mother, this strong light came to me, it knocked me back. I started shivering. I felt exhaustion," she said. "Then I told the sisters: 'I can't sit here anymore, please take me back to my bed, I don't feel well.'"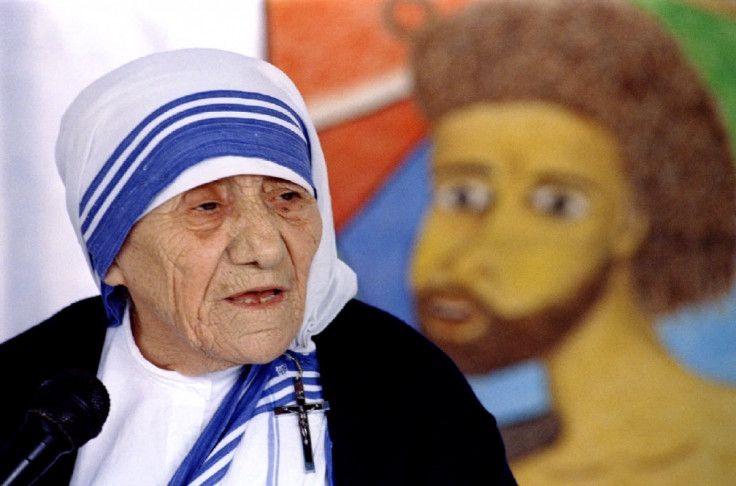 After placing a medallion embossed with Mother Teresa's image on her stomach, Besra fell asleep. When she woke she claims the cancerous lumps had vanished.
In 2003 Pope John Paul II officially recognised this event as a miracle, leading to Mother Teresa's beatification – the first step towards canonisation.
Then, in 2008, a Brazilian man was apparently cured of a brain tumour. This event will be formally confirmed by Pope Francis on Sunday (4 September).
Controversial figure
Almost 19 years after the diminutive nun passed away, aged 87, she still faces criticism for her approach to charity work.
The late writer, and atheist, Christopher Hitchens accused Mother Teresa of creating "a cult of suffering" that denied people medical care, based on her religious fundamentalism. Hitchens was called by the Vatican to give evidence against Mother Teresa's beatification and canonisation process.
A report by the New Internationalist, written by a volunteer who work at a Missionaries of Charity clinic in India, also described extremely poor hygiene and the failure to distribute medication, including painkillers, to suffering patients.
At a press conference in Washington press conference death in 1997, Mother Teresa justified her charity's care of patients, saying, "I think it is very beautiful for the poor to accept their lot, to share it with the passion of Christ. I think the world is being much helped by the suffering of the poor people."
The Guardian also reported that Hindu nationalists claim Mother Teresa was a"soul harvester" who proselytised among the poor, and even baptised the dying without their knowledge.